Artistic statement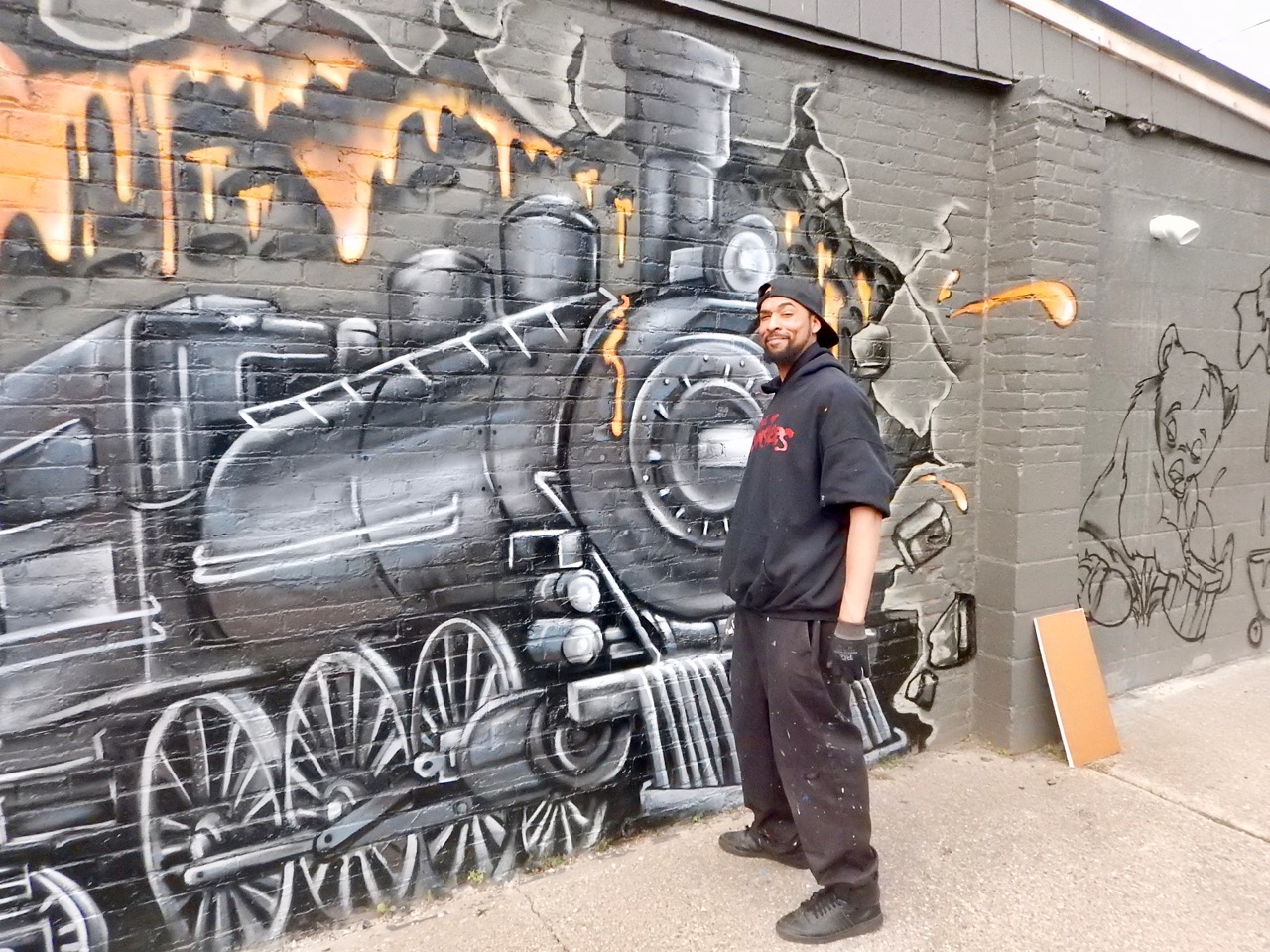 Artist Sintex works on the huge building mural he is completing on the exterior wall of a new market on Starkweather Street in Plymouth.
Jun. 6, 2017  PLYMOUTH EAGLE.
Plymouth Michigan News
Exterior painting attracts attention
Don Howard
Staff Writer
Business owner Aaron Cole is getting closer to opening a trendy new mini-market and restaurant in the Old Village section of Plymouth.
When he does, he has a special attraction for the entire community.
In a marketing effort for his new venture, The Honey Hole Market, now under construction on Starkweather Street at the former location of the Old Village Market, he sought out renowned Detroit graffiti artist Sintex to paint a larger than life mural on the south side of the remodeled building. Sintex, the only name he uses, was there last week with a high lift, art supplies and spray cans of paint–many, many spray cans–some with special tips. The artist said the mural will incorporate characterizations representative of Plymouth and the name of the new store-Honey Hole.
The 35-year-old artist is a graduate of the noted College of Creative Studies in Detroit and studied at the Pratt Institute in New York. He is already credited with creating some of the famous street art throughout the Detroit area.
Working with owners' permission in blighted areas and downtown locations like the Eastern Market, Campus Martius, and the Grand River Corridor, his art became known for bringing popular people to life. He has created images of Rosa Parks and Joe Lewis among other celebrities. He said his specialties are Native American faces, a tribute to his African American and Native American lineage, and 3D illustrations. Sintex said he has been passionate about art since his youth when he lived close to a railroad yard, where he perfected his painting skills on the train cars.
One famous Detroit mural painted by Sintex depicts victims of brutality including Vincent Chin, a Chinese-American man beaten to death by two white men in Highland Park in the 80s. His mural also includes other local victims like Malice Green and Aiyana Jones where he's added Chief Crazy Horse to the scene.
He said comic book cartoon characters always fascinated him and paint was always his passion.
"First, I lay down the sketch and then I build up the foundation with different contrasts." Sintex explained. Last week, only a corner portion of the mural was complete while the remainder of the building wall contained the black outlined sketches of depictions to come.
Sintex is quick to point out that there is a huge difference between art and vandalism. He said he likes to work with police departments and help community youths.
He added that when his work is finished, he hopes it will be the talk of the Plymouth art community.
Plymouth Voice.
Photo: © Don Howard – Associated Newspapers