Police officer files lawsuit against township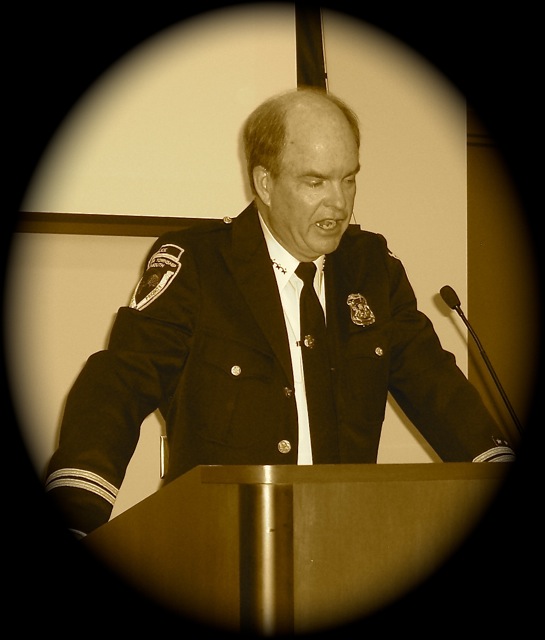 Plymouth Township Police Chief, Tom Tiderington, at presentation of law enforcement certificates to Officers Brittany DeFrain, Caitlin Jackson and Scott Tiderington, March 2012.
July 18, 2013  PLYMOUTH EAGLE.
One of the newest employees in the Plymouth Township Police Department recently filed a lawsuit in Wayne County Circuit Court alleging civil rights violations.
Brittany DeFrain, 24, who was hired in February 2012, has charged Plymouth Township with civil rights violations alleging sex and martial status discrimination. DeFrain, up until her resignation on Feb. 15, was a sworn police officer.
The lawsuit alleges the Plymouth Township Police Chief Tom Tiderington ordered a six-month extension of DeFrain's required one-year probationary period because he believed she was engaged in a dating relationship with another employee of the township police department.
DeFrain is seeking compensation for damages for lost wages, benefits, employment opportunities and emotional distress.
DeFrain's complaint states that for many years prior to the extended probationary period, the township police chief allowed employees to engage in dating and martial relationships with each other.
The complaint reads, "Defendant (Plymouth Township) permitted such relationship to continue and took no action to regulate or end them.
"At the time the defendant's police chief extended plaintiff's probationary period, no rule prohibited or otherwise regulated dating or marital relationships between two members of the police department."
DeFrain said she loved her job, and every since she can remember always wanted to be police officer like her father, Mark DeFrain who retired in 2009 after more than 25 years with the Ann Arbor Police Department. She is a Canton High School graduate and 2011 Michigan State University graduate with majors in psychology and criminal justice.
She had completed a 14-week field-training program with the township police force.
Additionally, the lawsuit states, "No male employee of defendant's police department, including the male police officer who purportedly was engaged in a dating relationship with plaintiff, was subjected to adverse employment action by defendant for engaging in a dating, sexual, or martial relationship with another employee of the department."
DeFrain resigned on Feb. 15, 2013.
Tiderington had not retuned calls seeking comment by press time.
|News Plymouth Township