Plymouth Rotary Club awards annual Officers of the Year titles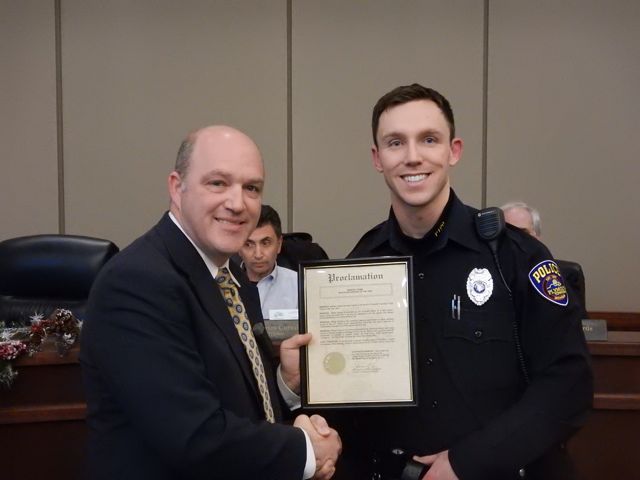 Officer Brad Cioma receives proclamation after being named Plymouth Township Officer of the Year by the Plymouth Rotary Club. Cioma and Firefighter Jim Harrell were recently recognized by Township Supervisor Shannon Price.
Dec. 17, 2015  PLYMOUTH EAGLE.
Plymouth Michigan News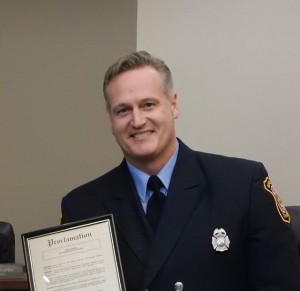 For the 15th year, the Plymouth Noon Rotary Club has taken time to honor the outstanding public safety officers in the community.
Last Friday, the club hosted the honorees from the Plymouth and Plymouth Township fire and police departments and the Huron Valley Ambulance first responders, along with the department chiefs at a luncheon in their honor.
Chosen for the second time as Police Officer of the Year in the City of Plymouth was Lt. Jamie Grabowski. Grabowski, an 18-year veteran of the department, also earned the honor in 2000, the first year of the Rotary program.
Police Chief Al Cox noted Grabowski's exemplary handling and management of the department during his absence this year while attending the FBI training school.
"He is truly a pillar of the department," Cox said. "He's very knowledgeable, he's very committed. He's a great adviser to me. He really cares about the department."
Alan Prieur, a Northville fire inspector and Plymouth Township firefighter James Harrell were named as the firefighters of the year. Bradley Cioma was honored as the Plymouth Township police officer of the year and Sam Forche of Huron Valley Ambulance was chosen as the paramedic of the year.
The Rotary Club goal is to recognize "the best of the best who serve our community" according to Awards Committee Chairman Dan Amos.
Forche, a senior paramedic at HVA, was praised for his care of a woman in labor who was about to deliver her child.
"Sam is a shining example of what a paramedic should be," said Paul Hood, HVA's vice president for eastern operations.
Prieur, a 4-year veteran of the Northville fire Department, performs safety regulation compliance inspections and leads the Plymouth efforts in planning inspections of commercial properties in the city. Northville Fire Chief Steve Ott said that Prieur, a former Detroit emergency medical technician, also works full time for Fire Systems of Michigan.
Plymouth Township Fire Chief Dan Phillips said that Harrell, a firefighter and paramedic, "goes the extra mile.
"Jim is a friend to all and he creates a positive atmosphere at the station," Phillips said.
Cioma, has been a township officer for 5 years and was selected for the honor "…because of what he does every day and how he gets the job done on a day-in and day-out basis," Chief Tom Tiderington said. "Brad does an outstanding job," the chief said. "What he does out there is really a team effort."
Plymouth City Manager Paul Sincock, a long-time Rotary Club member, acted as the emcee at the awards presentation and each of the honorees was award
Plymouth Voice.