VOTE 'YES' ON PROPOSAL 6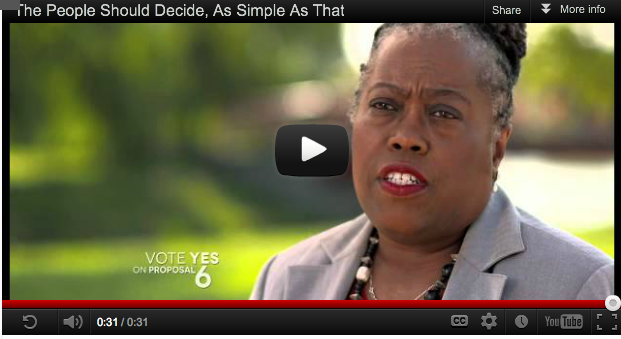 WATCH VIDEO-
October 5, 2012  PLYMOUTH VOICE.
PLYMOUTH VOICE RECOMMENDS VOTE YES ON PROP. 6
So They Can't Build the Bridge Unless We Approve It
################################
"Citizens should have the right to decide if the State should undertake major international bridges or tunnel projects for motor vehicles due to the possibility of ongoing taxpayer-funded expenses."
The proposal would require the approval of a majority of voters at a statewide election and in municipality where "new international bridges or tunnels for motor vehicles" are to located before the State of Michigan may expend state funds or resources for acquiring land, designing, soliciting bids for, constructing, financing, or promoting new international bridges or tunnels.
Patrick Colbeck,  Senator-Michigan Senate, 7th District

THE PEOPLE SHOULD DECIDE-WE NEED TO INVEST IN SCHOOLS FOR OUR CHILDREN AND GRANDCHILDREN-AND IN THE  POLICE AND FIRE FIGHTERS WHO KEEP OUR FAMILIES AND COMMUNITIES SAFE
SOME POLITICIANS THINK WE NEED ANOTHER BRIDGE TO CANADA
BUT THAT'S MONEY THAT COULD BE INVESTED IN THE PEOPLE AND FUTURE OF MICHIGAN
#####################################
"Proposal 6 would create a state constitutional amendment that would require a statewide and a local vote before the State of Michigan could spend any money to build any new international bridges or tunnels."
Detroit Free Press
Grover Norquist, CEO  – Americans for Tax Reform:
"The proposed NITC bridge from Detroit to Canada is a bad deal for MI taxpayers."
"There is no such thing as a free government program, especially when it comes to infrastructure spending," . "This proposed new bridge to Canada is no exception.
"It is imperative that any discussion of such a massive publicly funded project should give taxpayers a final say. A yes vote on Proposal 6 ensures that federal and state lawmakers must make the case to voters that any new bridge to Canada is in Michigan's best interest."
"Gov. (Rick) Snyder may have tried to ignore the legislature in his rush to build a $3.5-billion government bridge to Canada, but he cannot ignore the Michigan people. The court has affirmed the people have a right to decide how our money is best spent. And we are confident that come election day, (the bridge's petition) initiative will be approved by Michigan voters."
Detroit News /Windsor Star/Americans for Tax Reform