Officers of the Year honored by Plymouth Rotary Club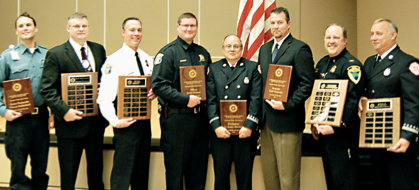 Nov. 21, 2012  PLYMOUTH EAGLE.
The Plymouth Noon Rotary Club presented the annual Public Safety Awards during their regular luncheon meeting last Friday.
The Plymouth Township Police Department selected Sgt. Todd Seipenko as Officer of the Year and the honor went to Ofc. Justin Bulmer of the City of Plymouth Police Department.
Huron Valley Ambulance Paramedic Marcus Sutherland and Northville Fire Department Lt. Jim Davison were also honored during the annual ceremony.
The presentation was co- chaired by rotary Club members John Warner and John Folino.
"It's sometimes easy to forget they're also heroes," in addition to being fathers and husbands, Warner said during the presentation. "At least for today, we want to make sure we honor these heroes."
Siepenko is an 18-year veteran of the township police department.
Davison, who retired from the Canton Township Fire Department, joined the Northville Fire Department about two years ago.
Bulmer has been with the Plymouth Police Department for four years, and received high praise from Police Chief Al Cox during the presentation.
"All command knows that if we give him (Bulmer) an assignment, it will be done in the way that it should be and often above and beyond that," Cox said.
Sutherland has been a paramedic with HVA for four years and was praised by Paul Hood, vice-president of the company.
The Plymouth Township Fire Department did not participate in the awards ceremony this year.