Oakwood Cemetery Tour brings history alive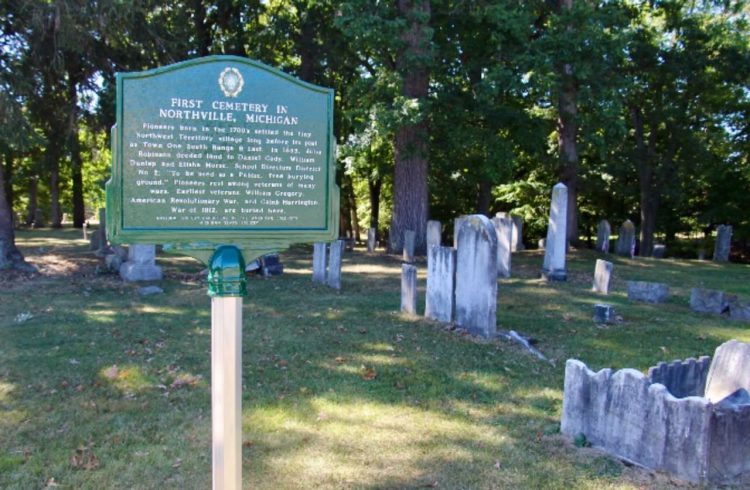 Oct. 19 2022  PLYMOUTH EAGLE.
Plymouth Michigan News
"If Stones Could Talk"
Visitors can take a step beyond the iron gates and experience the historic side of Northville as they walk among the grave stones of some of the most famous and infamous Northville figures during the Oakwood Cemetery Tour set for Oct. 22.
Dedicated tour guides will escort small groups within the Oakwood Cemetery from noon until 2 p.m. as actors share the storied pasts of those residing in the first cemetery in Northville.
The tours leave every 15 minutes and will last approximately 30 minutes and are designed to be informative, organizers from the Northville Art House, sponsors of the event, said. Visitors are urged to wear comfortable walking shoes as the ground is uneven. Umbrellas are suggested in case of rain as the event will take place whatever the weather.
The first tour will begin promptly at noon and the final tour will begin at 1:45 p.m.
Parking is available on street and nearby lots. Check-in and day-of tickets (if not sold out) will be available at Northville Art House.
Every precaution is taken to be respectful of the final resting places of Northville residents, organizers said.
Tickets are priced at $6 per individual and $22 for a family (six total, two adults, four children). Children younger than 6 will be admitted at no cost with an adult admission ticket. Tickets will be reserved at check-in under designated names. Groups larger than 12 should call (248) 344-0497 to reserve a time. For more information, con- tact spearson@northvillearthouse.org
Northville Art House is a 501 c 3 non-profit organization.
Plymouth Voice.