Now's the time to plan your fall color vacation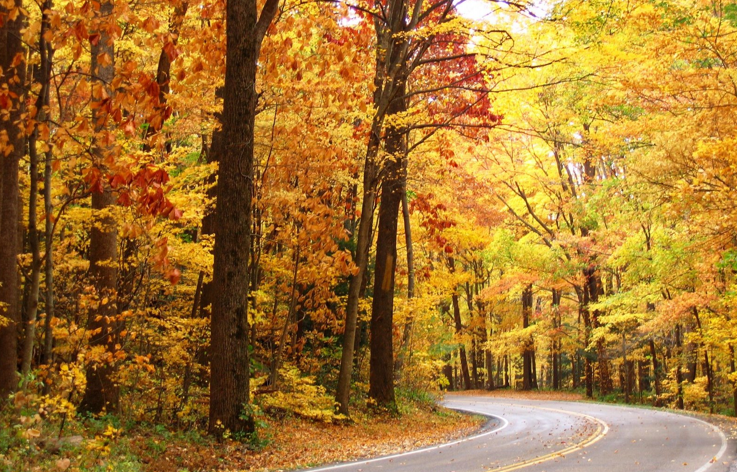 Sep. 24, 2013  PLYMOUTH VOICE.
Fall Color Tours 
It's when autumn arrives in Michigan. And there's no better place to see the dynamic colors of a trillion trees than along our highways, country roads and coastlines. So let's head out to the forests. Let our fall colors report guide you toward the best time to take a Pure Michigan fall vacation. 
Michigan's Sunrise Side greets fall color in late September, and the autumn hues usually linger until mid-October. This 200-mile route travels from Lake Huron's shore to a stunning stand of virgin forest, with lots of opportunities for wildlife viewing along the way.
---
Detroit – Algonac – Lake Orion – Port Huron
Where better to begin a driving trip than in the Motor City? The home of the Motown Sound is the starting point for a 195-mile fall color route that skirts three waterways to the maritime city of Port Huron, and rolls through historic Southeast Michigan towns with connections to three pop music stars. The month of October is prime for viewing autumn hues at a variety of parks, and stopping to taste seasonal treats at cider mills along the way.
---
Flint – Brighton – Bloomfield Hills
Catch the last spectacular show of fall color in East Central and Southeastern Michigan in October. There is plenty of see and do with the entire family in this loop of 150 miles from Bloomfield Hills, to Flint and back down to the Brighton area.
---
Grand Ledge – Hastings – Battle Creek – Eaton Rapids
Here's a Capital idea: a fall color excursion that starts in the State Capital and takes in scenic farm and woodlands, rivers, and a unique geological formation that is about 300-million years old. The 150-mile loop is best enjoyed from mid to late October.
---
Grand Rapids – Grand Haven – South Haven – Kalamazoo
Pack the binoculars, bicycles and beach blanket for a fall color tour that takes in all the sights, from city scenes and sand dunes to wineries, farm markets and Lake Michigan sunsets. And don't forget the camera for this 195-mile West Michigan jaunt, which is best enjoyed from early to late October.
---
Grayling – Torch Lake – Lake City
Enjoy this area's fall color by car, on foot, or in a canoe. The winding Au Sable River is the perfect waterway to paddle and enjoy the splashes of vibrant color against towering evergreens.
---
Hillsdale – Homer – Sturgis
Catch the last act of Michigan's fall color show in the central Lower Peninsula near the state's border with Indiana and Ohio.  Best enjoyed from mid-to-late October, the 155-mile loop travels through countryside known for agriculture, antiques and Amish communities.
---
Houghton – Eagle River – Copper Harbor
Michigan's fall colors come first to the trees of the Keweenaw Peninsula, the state's northernmost point. The crooked finger of land that juts into Lake Superior puts on its annual show from about mid-September to early October in a stunning display of reds, oranges and golds that blankets the hills and ridges and forms colorful tunnels on winding two-lane roads.
---
Iron River – Bruce Crossing – Watersmeet
If you're looking for fabulous fall color, look no further than Michigan–it's around nearly every bend in the road.  We invite you to take time along the way to discover the many local U-pick orchards, pumpkin patches, cider mills, and autumn festivals for a real taste of the harvest season in Michigan.
---
Ironwood – Silver City – Wakefield
This Western Upper Peninsula fall driving tour includes breathtaking vistas, country roads, waterfalls and a chance to walk on the Lake Superior shore. With ninety percent of the area forest covered, you are sure to be engulfed by a sea of reds, oranges, golds, and greens that tint the countryside from mid-September to early October. The colors outlined by the mountains, bluffs, and lakes form woodland rainbows around every bend.
For a dose of Michigan history with your fall color tour, take this 195-mile trip through southeast Lower Peninsula and follow old Indian trails and territorial roads, an early tavern, a battlefield, the hometown of an infamous general, and even a winery or two. The colors along the mostly two-lane highway route are usually best from mid-to-late October.
---
Lansing – Alma – Ionia
In Michigan's State Capital City of Lansing and neighboring East Lansing, fall color means equal parts green and white-at least on football weekends. The home of the Michigan State University Spartans, the pioneer land-grant institution was founded in 1855 and boasts an arboretum-like campus that bursts into an autumn palette of vibrant reds, oranges, bronze—even maize (but no blue). It's a good place to begin a 175-mile mid-mitten fall color tour that is best viewed throughout October.
---
Mackinaw City – Petoskey – Charlevoix
This Northwestern Michigan fall color tour includes hilly, forested countryside, charming resort towns nestled along the sparkling blue waters of Lake Michigan, breathtaking views, fresh air and colorful wildlife.
---
Manistee – Cadillac – Ludington
Make a 185 mile loop for exciting fall color and visits to parks, cities and special attractions in Manistee, Cadillac and Ludington. A great fall color tour adventure depends on great fall color! Make sure you know when the colors will be peaking by checking out the most current fall color conditions. Updates are posted weekly through September and October.
---
Marquette – Negaunee – Au Train
This Central Upper Peninsula fall driving tour includes tree-lined country roads, waterfalls, historic sites and a stunning drive along the Lake Superior shore. Any road winding through the Central U.P. will show you trees ranging from a subtle yellow to brilliant red from mid-September to early October. The peace and quiet of this period is unmatched at any other time of the year.
---
Menominee – Escanaba – Manistique
If you're looking for fabulous fall color, look no further than Michigan–it's around nearly every bend in the road.  We invite you to take time along the way to discover the many local U-pick orchards, pumpkin patches, cider mills, and autumn festivals for a real taste of the harvest season in Michigan.
---
Midland – Harrison – Remus
Head to the heart of Michigan's Lower Peninsula from early to mid-October for a town-and-country fall color tour that departs Midland and circles hardwood forests and farmland in four counties. The 160-mile route is dotted with dozens of inland lakes and criss-crossed by the Pine, Salt, Sturgeon, Tittabawassee, Tobacco and Chippewa rivers.
---
Munising – Newberry – Grand Marais
Mother Nature's paintbrush gets a workout in Michigan each autumn. Beginning in mid-September her fall palette washes over the Upper Peninsula, complementing the blue-greens of the Great Lakes, and the white birch bark and deep evergreens of forests that envelop miles of quiet country roads.
---
New Buffalo – St. Joseph – Benton Harbor – Paw Paw
When the air cools at night, lush green leaves change to brilliant jewel colors…turning forests to gold and fields of blueberry bushes to crimson. This Southwestern Michigan tour features cider mills, u-pick farms, roadside markets, wineries and quiet hiking trails as you travel.
---
Oscoda – West Branch – Tawas City
This Michigan Sunrise Side fall color tour includes a scenic drive along Lake Huron, unspoiled wilderness and recreation areas, abundant wildlife, and the River Road Scenic Byway along the beautiful Au Sable River.
________________________________________________________________________
Pentwater – White Cloud – Muskegon
This Western Michigan fall color tour includes rolling wooded hillsides, orchards with ripe apples and beautiful vistas of Lake Michigan.
---
Port Huron – Sandusky – Imlay City
Give a thumbs up for pure Michigan color. The cool, crisp air and colorful roadside show staged by changing leaves makes early to mid-October an ideal time for a driving tour through the Thumb of Michigan's "mitten." This easy, 130-mile square trip skirts the Lake Huron shore and takes you across farmland and country roads to orchards, cider mills, pumpkin patches and small towns and museums just right for exploring on a quiet afternoon.
---
Rogers City – Cheboygan – Indian River
Woods and water have always been important to the northeast corner of Michigan's Sunrise Side at the "Tip of the Mitt."  You'll see no shortage of either on a tour of the 200-mile triangle that includes the sandy beaches of Lake Huron, rivers and lakes teeming with fish, the only waterfalls in the Lower Peninsula, and thousands of acres of forests.  The land that was clear cut during the lumbering boom more than a century ago now offers beautiful fall scenery from late September to mid-October.
---
Saginaw – Bay City – Bad Axe – Frankenmuth
The breathtaking splendor of Lake Huron awaits you on this "thumb" area color tour!  Other highlights include: Frankenmuth, Saginaw, state parks, farm markets and antique shops.
---
Saint Ignace – Whitefish Point – Engadine
A driving tour through the Eastern Upper Peninsula of Michigan will provide you with a memorable experience. Don't forget to bring your camera.  The wonderful fall colors provide a beautiful backdrop for photographing the beautiful lakes, waterfalls, and lighthouses.
---
Sault Sainte Marie – Drummond Island – Hessel
The oldest European settlements in the Midwest, and the third oldest in the United States are at the heart of this tour of the Eastern Upper Peninsula. The historic city of St. Ignace, at the Straits of Mackinac, is a good place to begin this 160-mile tour.
---
Traverse City – Northport – Frankfort
From late September to mid-October the Traverse City-Northport-Frankfort areas are ablaze with autumn hues. The Grand Traverse area encompasses more than 250 miles of Lake Michigan shoreline, certainly providing some spectacular fall color viewing. It's a great time to take a hot air balloon ride to see the colors from above, or to climb aboard the twin-masted schooner Manitou for a sail across Grand Traverse Bay.
Source: © Michigan Economic Development Corporation