Northville Township to host Maple Sugaring Program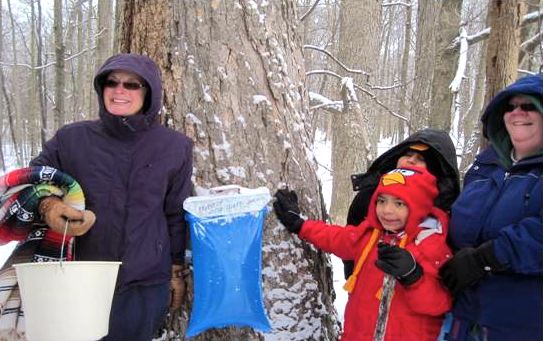 Mar. 15, 2014  PLYMOUTH VOICE.
March is maple-sugaring month in Michigan and Wayne County Parks has a sweet Saturday program available for your entire family on March 15 and 22. Bundle up and join park naturalists for the annual Maple Sugaring program at the Cass Benton Park picnic shelter in Northville Township where a historic "sugar bush" still exists.
Learn the history of maple sugaring and take a short hike into the woods for an actual tree-tapping demonstration. In celebration of this early spring ritual, the group will enjoy pancakes with the "real thing" afterwards.
The practice of maple sugaring dates back to when Native Americans taught early settlers how to collect and boil sap during this time of year. The freezing nights and warm sunny days create pressure and force sap out of the maple tree.
The duration of the program is approximately 90 minutes. Visitors may register for either March 15 or March 22, and choose a start time: 10:00 a.m., 11:00 a.m. or NOON.
Dress accordingly, as this is an outdoor program and the trail may be muddy. All ages are welcome. The program fee is $6.00 per child and $2.00 per adult for Wayne County residents. Add $1.00 per person for non-Wayne County residents.
Advance registration and prepayment is required at the Wayne County Parks office, 33175 Ann Arbor Trail, Westland, MI 48185 or over the phone at (734) 261-1990. Cash, credit card or check payable to Wayne County Parks is accepted.
Cass Benton Park is located off of Northville Road, north of Six Mile Road. For more information on this or any other Wayne County Parks event, please call (734) 261-1990 or visit www.parks.waynecounty.com .
|News Plymouth Michigan
Plymouth Voice