New board says $1.1 million missing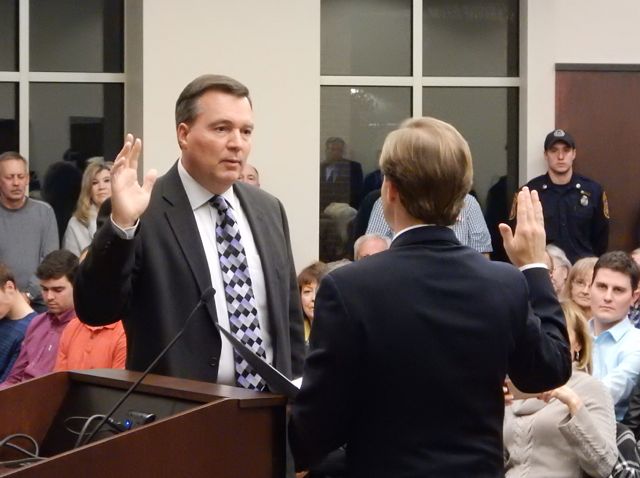 Newly elected Plymouth Township Treasurer Mark Clinton recites oath of office before Lt. Governor Brian Calley
Dec. 9, 2016  PLYMOUTH EAGLE.
Plymouth Michigan News
Don Howard
Staff Writer
During an informal discussion at the meeting of members of Plymouth Concerned Citizens last week, newly-elected Township Supervisor Kurt Heise, Clerk Jerry Vorva and Trustee Gary Heitman admitted that their first few days in office have been fraught with challenges left by their predecessors, including nearly $1,100,000 in funds that cannot be located.
Heise told the assembled membership of his frustration and that of the other officials who had only been on the job for six days at the time of the meeting. He discussed some of the specific problems that he, Treasurer Mark Clinton and the others had encountered. Heise explained that the new officials discovered an unusual number of records and files missing. He theorized that the records may have been digitized but said the new officials found many empty file drawers and records binders.
"All roads when looking for data appear to come to a dead end."
The financial accounting should have been easily accessible through a $219,275 account- ing system approved by the board of trustees in 2015. The computer program, from BSA Software of Bath, was purchased to replace the aging 22-year old financial management system at the urging of defeated 20-year Treasurer Ron Edwards.
Edwards told the board members that the new system would cover all financial aspects of township operations such as property taxes, special assessments, utility invoicing, accounts receivable and payable functions and even dog licenses. The new software accounting system was to handle all financial reporting and management with the exception of payroll which would be handled by ADP payroll services, according to Edwards.
Federal auditors from the Department of Justice (DOJ) in the 2015 audit summary of the equitable sharing program in the township found internal control weaknesses and highlighted Edward's claim that a new software system would provide remedial accounting for the drug forfeiture program. Edwards said at the time it would take nine months to get the system installed and train employees.
According to Heise, the new BS&A Accounting System, touted by Edwards and former Supervisor Shannon Price as being the solution to complete access to everything while the two sought board approval for the purchase, is not yet fully functional and access for employees is a problem. Most employees are only able to complete very limited tasks and are not fully trained.
"It's been designed by the prior administration in a way that doesn't comport with the way computer systems operate elsewhere in the state. We're working with BS&A for training for all employees-we may have to start over with a clean system," Heise said at the meeting.
Clinton confirmed that Plante Moran auditors required "one piece of information," relating to the long overdue 2015 township audit and the missing $1.1 million. The audit was due June 30 and the state is now withholding revenue sharing funds. Clinton said he believes the glitch was somewhere in the reconciliation of the property taxes and pointed out that it was the clerk's responsibility to maintain the General Ledger, a job Edwards had assumed. Clinton said it's too early to say the money is truly missing, only that it is not where it is supposed to be and has not been located.
Clinton said he was not suggesting there was anything illegal and that it was something the Plante Moran auditors found.
"We don't know. I don't know what I don't know yet," Clinton said. "I'm not suggesting anything illegal."
In a revealing report letter drafted Nov. 20, Plante Moran auditors noted significant differences between bank statements and the general ledger that were not identified or corrected until three days before the new board took over.
"The amount of the difference was $1,100,000 more than the general ledger reported. When we investigated, it turned out to represent property tax collections that had been transferred to the General Fund but not recorded as such," the auditors noted in the report.
Vorva said they are very busy "spending time on tasks that have to get done," pointing to the township audit, zoning issues, computer access for all employees and FOIA requests.
"When you don't have a good accounting trail-we have to ferret that out, we're going to be reconciling bank statements, but we have to get the audit done," Vorva said.
The newly-elected clerk said he's not complaining, but, "there was no transition" when he took control. "Nancy (Conzelman) never responded." He blames the assumption that Conzelman thought she had a valid excuse not to respond after she announced she was running as a write-in candidate, "obviously thinking she was going to be re-elected."
"We just have to get things done, and change the process-it's too soon to say there was any wrongdoing," Vorva said. "I question how things were done and how things are supposed to work."
Vorva cited certain accounting practices and one major concern he has is the mailing of township bank statements to post office boxes.
"I'm working with the treasurer and Plante Moran to finish the audit. The detail just was not there…How do you lose checks? Was it gross negligence? It's no question there was sloppy bookkeeping."
There are 17 bank depositories on record for township funds, accounts that were established by Edwards. Clinton said that at the Dec. 6 board meeting the board will be asked to approve next years bank depositories and he believes that number will go to four from the current 17.
Heise said he didn't want to label anything as gross negligence. "I can't make that determination now, but they've made us work a lot harder."
Heitman said he fears there might be a time when the taxpayers could have to make up the loss, but added that he was only speculating.
The three officials urged the citizens group to continue their meetings and watchdog efforts. The group agreed to continue their meetings, after the first of the year on a bi-monthly basis beginning in January at the Plymouth Library and other locations to be announced.
Plymouth Voice.
Photo: © Don Howard/Associated Newspapers