Lie of the Week!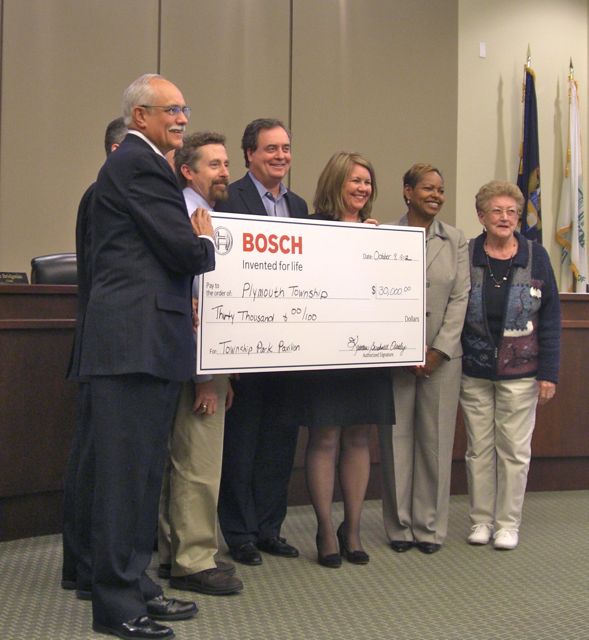 Richard Reaume (left), accepts $30,000 gift donation from Robert Bosch Corporation executives, along with trustees, (L to R) Steve Mann (not visible), Mike Kelly, and Kay Arnold (right), July 2012.
Apr. 30, 2013  PLYMOUTH VOICE.
"I (really) don't remember that kind of numbers."
Richard Reaume, Plymouth Township Supervisor, at August 23, 2013  township board meeting, to trustee Bob Doroshewitz after Doroshewitz questioned Reaume's original $350,000 construction estimate for a proposed township park pavilion-warming station, which has now grown to $625,000.
Truth:
From the minutes of the Board of Trustees Meeting, July 17, 2012
CHARTER TOWNSHIP OF PLYMOUTH
BOARD OF TRUSTEES
REGULAR MEETING
TUESDAY, JULY 17, 2012
J. NEW BUSINESS
2) Acceptance of the Land and Water Conservation Fund (LWCF) Grant and Project Agreement New Multi-Purpose Pavilion at Plymouth Township Park Resolution Number 12-07-17-22
Mr. Reaume and Mrs. Radtke informed Board members of the plans to use the $100,000 grant money for the construction of a multi-purpose pavilion in Township Park. It's proximity to the sled hill makes it available as a warming shelter, the proximity to the ball diamonds makes for availability of rest rooms. Estimated total cost of construction is $350,000 with $41,000 to be received from Wayne County recreation funds and other donations are being sought from the foundations of Johnson Controls and Bosch Corporation.
Moved by Mr. Mann, seconded by Ms. Arnold, to approve Resolution No. 12-07-17-22 to accept the LWCF grant and the terms of the Project Agreement, as received by the Michigan Department of Natural Resources for the construction of a new multi-purpose pavilion at Plymouth Township Park, and authorize the Township Supervisor and Clerk to sign the agreement.
ROLL CALL: AYES: Mann. Arnold, Doroshewitz, Edwards, Reaume NAYS: Bridgman
Motion carried. A copy of the Resolution is on file in the Clerk's office for public perusal.
(Jana Radtke is Community Development Director/Planner)