Library unveils Pewabic mural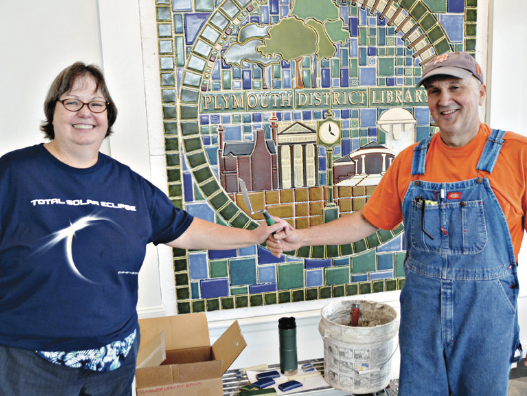 Plymouth District Librarian Carol Souchock and one of the artists from DeSandre Brothers fist bump at the completion of the installation of the new Pewabic Tile mural at the library.
Oct. 6, 2017  PLYMOUTH EAGLE.
Plymouth Michigan News
Visitors to the Plymouth District Library will notice a colorful new art installation in the vestibule near the main door.
A new custom tile mural created by Pewabic Pottery of Detroit has been unveiled at the downtown Plymouth facility. Including community landmarks and natural features, the mural features approximately 650 tiles glazed in more than a dozen colors in hallmark Pewabic style.
Founded by Mary Chase Perry Stratton in the early 1900s, Pewabic Pottery has enriched lives through art education and outreach for more than a century. The installation began the week of Aug. 14 and installers worked during regular library hours, allowing visitors to see the mural take shape.
This project was made possible by a generous contribution from an anonymous donor, noted Library Director Carol Souchock, and has been in the works for the last year.
Many meetings took place to determine exactly what local landmarks would be included to represent and celebrate the community.
The Pewabic design team, including Senior Designer Special Projects Genevieve Sylvia, and Glaze Development Specialist Alex Thullen, among others, worked through several renditions to convey the Plymouth community including both the City of Plymouth and Plymouth Township. One half of the mural features iconic landmarks of the city like the Penn Theater and downtown clock.
The tile mural was created, cut and molded by hand by Pewabic artists. Tile pieces then passed through multiple kiln firings (2300° F) to achieve the end-glaze colors. At that point, the mural pieces were then re-assembled to insure fit, quality and final approval.
Early discussions by the Library Board of Trustees pointed toward Pewabic and its longstanding reputation in southeast Michigan.
"We are so excited to share the tradition and history of Pewabic Pottery with the patrons of the Plymouth District Library," said Mary Maguire, president of the library board of trustees. "The art tile installation not only honors the Plymouth community but the larger metro area, as Pewabic is a Detroit-based non-profit. Like our library, Pewabic Pottery is com- mitted to excellence and to providing educational opportunities, passing knowledge to those who seek it," she added.
Souchock, worked with all parties on the project, including library architect Ron Cieslak. "It was through this diligent effort that a final design was determined," she explained. "In the coming years, this work of art will become a landmark in itself."
DeSandre Brothers installed the artwork at the library.
Plymouth Voice.
Gallery Photo by David Willett