Lego car show set at library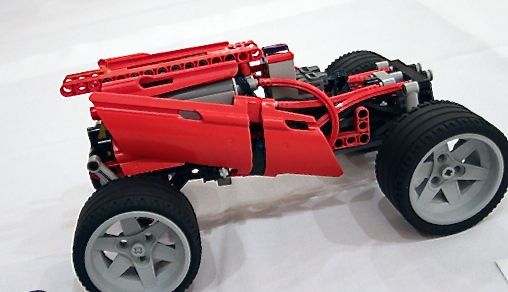 Best vehicle Ann Arbor Lego Show 2012 – Off Road Car
Jan. 7, 2015  PLYMOUTH EAGLE.
Plymouth Michigan News
There will be two auto shows in the area this January, one in downtown Detroit and the other at the Canton Public Library.
The library will host the 2015 Dream Vehicle Lego contest and accept entries of cars built from the tiny plastic blocks. The library is hoping to see flashy design, innovation and some impressive engineering in both the motorized and non-motorized classifications for entries. Contestants can enter in four age categories: kindergarten through second grade; third through fifth grade; sixth through eighth grade; and ninth through 12th grade, plus a special team division for families or groups of students.
The entries will go on display for public viewing at the library Jan. 10 and 11 and visitors can vote on their favorites in all the categories. The event will run at the same time as the North American International Auto Show in Detroit. Awards to the winning entries will be presented during a reception set for 4 p.m. Jan. 11.
Entries must be pre registered and delivered to the library no later than 9 p.m. Jan. 8. Complete rules and information are available on the library website, www.can- tonpl.org.
Plymouth Voice.