Grant will fund Rotary renovations of pavilion at Allen academy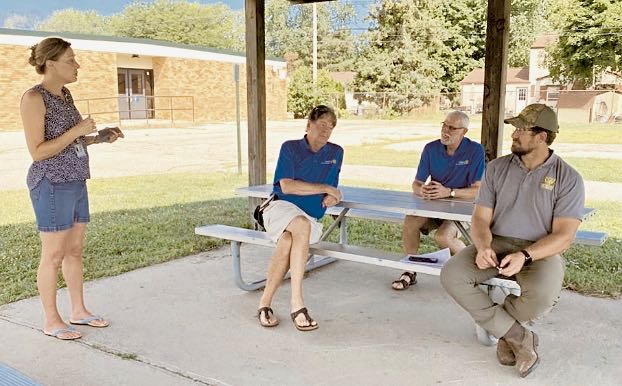 Sep. 14, 2020  PLYMOUTH EAGLE.
Plymouth Michigan News
Members of the Rotary Club Plymouth A.M. have a very "special" upcoming project.
The club received a $3,700 grant from the Plymouth Community Foundation to help fund renovations on a pavilion located behind Allen Learning Academy which houses the Infant and Preschool Special Education Program (IPSEP) of the Plymouth-Canton Community Schools.
The Plymouth A.M. Rotary club has been a partner with IPSEP for almost 20 years, previously outfitting both the sensory integration room and the handicap accessible playground at the school. With the grant funds funding materials, Rotary Club volunteers will paint and decorate the pavilion and put a barrier around the structure for children's safety. The pavilion will be equipped with preschool handicapped accessible picnic tables, a sand table, a white-board, and a storage unit. The renovated outdoor pavilion is designed to provide a learning space for the special needs students enrolled in IPSEP.
"IPSEP is very grateful for the relationship and support we have received throughout the years from the Rotary Club of Plymouth A.M. Our youngest students and families have been the beneficiaries of their generosity and charitable acts for many years. Their generous support will help us provide an alternative environment for staff to support students during this challenging time and in the future," said Rori Meyerink, IPSEP supervisor.
Rotarians are ready and excited to get to work to prepare this outdoor space for these very special children, according to a group spokesperson. This project is one of the many educational projects for which the Rotary Club of Plymouth A. M. has been recognized. The club was recently awarded the "Friend of Education" award by the Delta Kappa Gamma Society – a statewide organization made up of educators. The award honored not only the work of the club members with the IPSEP program but their continuing support of students – especially from the Starkweather program – with scholarships for students who have overcome adversity to continue their education. The society also acknowledged the work of the club in the African nation of Ghana, building two schools there, training teachers and supplying desks and other educational materials for the schools.
 Jeanne DeRoche, current president of the Rotary Club of Plymouth A.M. was on hand to accept the award.
"Our club was honored to receive this award as it was given by women teachers and educators in our community. It means a lot to us to be recognized by professionals that we admire," DeRoche said.
Plymouth Voice.