Friends of the Rouge moves to PARC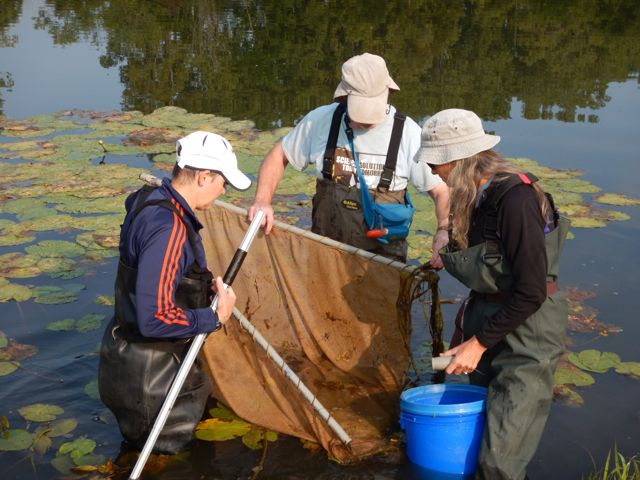 Environmentalist from Friends of the Rouge inspect the Plymouth Township-McClumpha Park pond, August 2015.
Apr. 20, 2018  PLYMOUTH VOICE.
Plymouth Michigan News
Friends of the Rouge, (FOTR) will relocate their offices to Plymouth's Arts and Recreation Complex this summer from the Dearborn campus of the University of Michigan. Their new 2,760 square foot office will be located on the second floor library of the former Central Middle School. Plans call for a 20-seat conference room, 24-seat classroom, teaching laboratory, one private office, copy room and a reception-public education area.
The organization is made up of volunteers who work raise awareness of the need to clean up one of the nation's most polluted rivers. Their mission is to promote restoration and stewardship of the Rouge River ecosystem through education, citizen involvement and other collaborative efforts for the purpose of improving the quality of life of the people, plants and animals of the watershed. They provide opportunities for residents to participate in cleanups, stream and wetland monitoring, restoration projects, and recreational activities like canoeing and kayaking. FOTR was founded in 1986.
The Rouge River Watershed drains 467 square miles of land in southeast Michigan and includes Plymouth Township and the City of Plymouth.
FOTR Board President Michael Darga states, "Friends of the Rouge is excited to be moving its offices to PARC in downtown Plymouth. The history of Plymouth and its connection to the Rouge River is a natural fit for FOTR. We're looking forward to continuing and expanding our programs from our new home and being able to interact with the other organizations located at PARC."
Regarding the addition of Friends to the PARC community, PARC President Don Soenen said, "We are pleased to add FOTR to our impressive list of tenants. Plymouth has always had affection for the Rouge River. Having FOTR located in the heart of our community is a major achievement."
Plymouth Voice.
Photo: © Don Howard / Associated Newspapers