Fire claims 96-year-old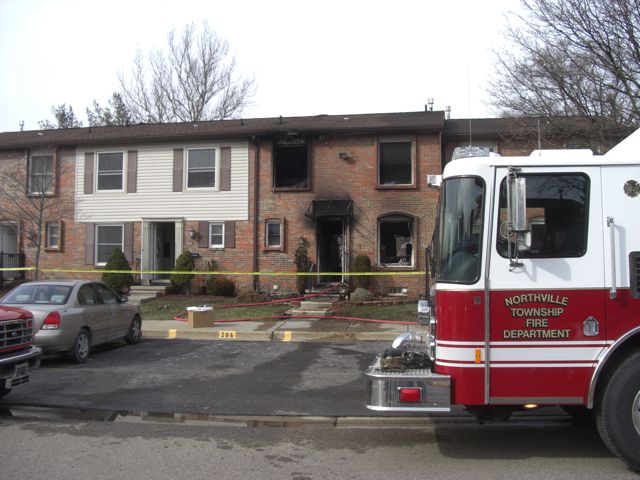 Feb. 21, 2013  PLYMOUTH VOICE.
A raging house fire claimed the life of a 96-year-old woman Monday morning in Northville.
The fire occurred in the Kings Mill 455- unit co-operative community off Northville Road in Northville Township.
According to Northville Township Public Safety Director John Werth the first 911 call came in at 10:11 a.m. and the first fire unit was on the scene at 10:15 a.m.
"Upon arrival we were informed one occupant was in the residence, and our crews observed heavy flames in the front of the building." Werth said
Fire crews assisted in evacuating neighboring residents in the eight unit co-operative building.
Under the terms of the mutual aid pact Livonia and Plymouth Township Community Fire departments were called for back up.
The fire started in a unit in the center of the building and only the two outward units were badly damaged. Werth said with "cooperation and good work" they were able to save five of the eight units.
Marge Poupard, a 9-year resident said she would help the elderly victim with her trash, but didn't know her name. "She didn't get out much in recent years," Poupard said.
Janice Lee who's lived at Kings Mill for 8 years said she saw the flames "shooting out of the front windows."
The victim's son, interviewed at the scene of the fire, said his mother was a smoker, but would only smoke in the kitchen in the lower level. Werth said when the firefighters were able to enter the residence they found the victim in her bed on the second floor.
Investigators were still on the scene trying to determine the cause of the fire late Monday afternoon and expected to be there for several more hours.
Werth noted that this was only the second death by fire in Northville Township since 1978.