Emergency dispatch times criticized by official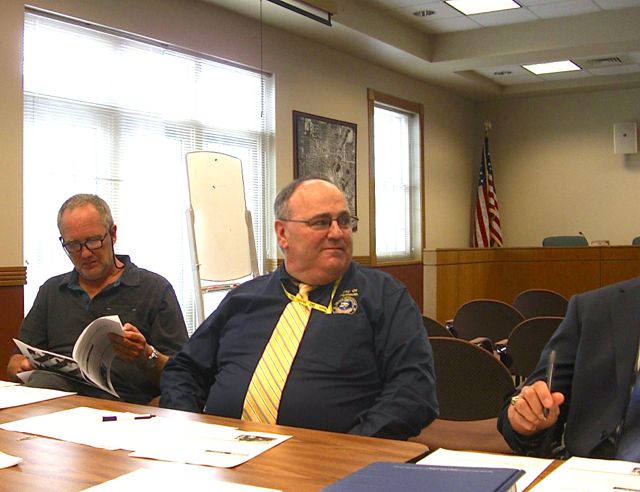 Plymouth City Manager Paul Sincock at Northville Plymouth Fire Advisory Board meeting in 2012.
Mar. 16, 2015  PLYMOUTH EAGLE.
Plymouth Michigan News
"Don't drive a wedge where a wedge insn't needed."
Don Howard
Staff Writer
In an "Administration Update" last month, Plymouth City Manager Paul Sincock targeted the Plymouth Township Police Department dispatch operation as "…having a difficult time in processing calls for service in a timely manner."
His critical assessment was addressed to members of the Northville Plymouth Fire Advisory Board, made up of elected and appointed officials from Northville and Plymouth. The board was established to oversee the current Plymouth and Northville joint fire department following the 2010 dissolution of the Plymouth Community Fire Department which included both the city and township of Plymouth.
Dispatch of critical emergency calls for police and fire services in the City of Plymouth is still handled by Plymouth Township dispatch operations.
In his memo, Sincock said an Inter-City-County Management Association (ICMA) report showed the response to 911 calls in the City of Plymouth was taking nearly two minutes before on-call firefighters were actually dispatched, which exceeds national standards set by the National Fire Protection Association. ICMA is a Washington D.C. based think-tank management association that specializes in consulting in public safety and performance measurement.
Plymouth Township Police Chief Tom Tiderington said he takes exception to Sincock's claim that there is any delay or problem with the current dispatch operation.
He said he is proud of the performance of the dispatch center and his 11 full-time civilian employees who are Police Service Aides (PSAs) and his communications supervisor, Lt. John Brothers.
Brothers said 99 percent of the thousands of emergent calls the department processes are dispatched within seconds by radio, computer and tone-out on pagers, He said he prepares a monthly report in which every single call that exceed 30 seconds is addressed. He said that the report is reviewed with the dispatchers and that a written report is sent to City of Plymouth Chief of Police Al Cox. Cox also serves on the Fire Advisory Board and reports to Sincock.
"Sometimes it takes longer than 30 seconds to determine if a response is needed, like the case of a carbon monoxide detector that was going off but now stopped." Brothers explained.
In 2010, after the acrimonious dissolution of the joint fire department with Plymouth Township, Sincock recommended the city commission authorize payment to ICMA to create the Emergency Services Review. The joint agreement with Plymouth Township for fire and EMS services established in 1995 generated $950,000 annually to the township for emergency services. The dissolution of the inter-governmental operation has caused an ongoing disagreement between the communities regarding the financial obligation of the city to the township for pen- sion costs accrued while the joint operation existed.
The City of Plymouth followed the recommendation of the ICMA consulting team which included Leonard Matarese, a retired Miami Florida police officer; Ken Chelist, an engineering management professor from Wayne State University and Jerry Zapolnik, Huron Valley Ambulance chief operating officer, when the Northville Fire Department on-call firefighter model was adopted.
Sincock's memo says while the dispatch center is "taking nearly two minutes to process emergent calls…this is a significant improvement over the ICMA 2010 report which showed that call processing took three minutes."
"Beyond politics, our officers have a good working relationship with the City of Plymouth. If there's ever an issue, it's always resolved. We back up each other every day," Tiderington said.
Sincock said he was not familiar with Brothers' monthly Fire Department Issues Report sent to Cox.
"The city and the township….regularly work together on many projects, many you know nothing about," Sincock said.
"Let me say this, it's a work in progress," he said of his memo regarding the dispatch operation. "It's an ongoing process of improvement."
"Don't drive a wedge where a wedge isn't needed."
Sincock insisted Cox was "unavailable for comment."