Changes to Rizzo trash contract nixed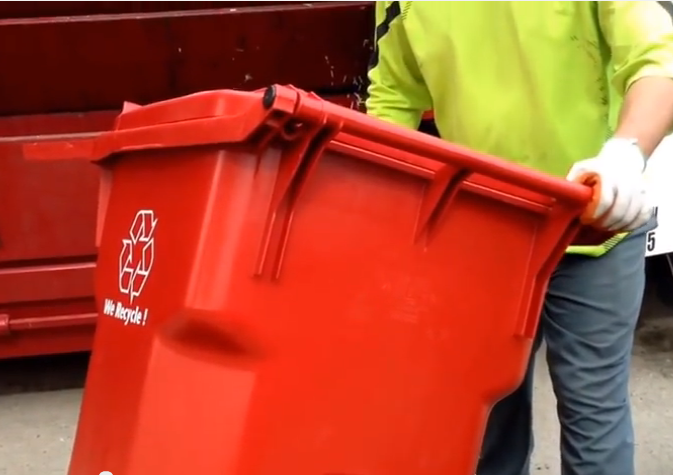 Oct. 14, 2016  PLYMOUTH VOICE.
Plymouth Michigan News
WATCH VIDEO
Don Howard
Staff Writer
Following multiple protests from residents, Plymouth Township officials did not act on a proposed contract change with Rizzo Environmental Services last week. The proposed change, on the agenda for the second time, was a resolution to exercise a contract option to facilitate automated trash pick-up in the township. The item was listed on the meeting agenda for consideration by the board of trustees on Sept. 27 and then revisited Oct. 11. Attempts to revise the current township solid waste contract failed after prolonged discussion and continued adverse public comment. There was no consensus among officials who were unable to even call a vote on the matter as members remained silent when asked to call for a decision.
According to the language of the $11 million contract with Rizzo, the township was allowed to change from curbside hand collection to automated pick-up utilizing rolling carts belonging to Rizzo.
"If the township chooses to switch to Section A-2 and A-3 of Contractor's Bid Form, Contractor's will make such switch forthwith upon the Township's written notification to Contractor… As such Contractor may adjust the prices…" the contract language reads.
The contract revision with Rizzo would have increased cost by 76 cents per month, per household. With approximately 8,600 residential household stops in the township, the increase amounts to $78,432 annually. It is estimated that, if approved, the new revised contract would have generated more than $470,000 in revenue for the trash hauler during the remaining 6 of the current 7-year contract, notwithstanding their internal costs for the carts nor the potential reduction in workforce labor costs with the automation option.
Rizzo is the company currently embroiled in federal charges of bribing municipal officials. That investigation and charges against a Clinton Township official made headlines this week when federal agents charged Trustee Dean Reynolds of Clinton Township with accepting bribes, allegedly from Rizzo, for his favorable vote on contracts with that township.
A published statement from Rizzo spokesperson Joseph A. Munem said, "In this, as in all matters, we're cooperating with the legal authorities. We will follow their guidance so long as it may be required in the coming weeks.
We will continue to focus on delivery of our services, and to demonstrate to our employees, partners and customers that we remain the premier provider of environmental services in our community."
Munem was involved in the recent political campaign of defeated township Supervisor Shannon Price when it was alleged he was responsible for an internet site critical of Price's opponent in the township supervisor election.
State Rep. Kurt Heise, who defeated Price as a write-in candidate for the supervisor's position during the primary election, subsequently took Price to task about the site at a regular public meeting last January. The internet site is critical of a Heise's House Bill which would allow future prisoners to be eligible for release if they have served their minimum sentence. Heise said the site was the work of Munem, "a political activist who is also the head of government relations for Rizzo Environmental."
Heise said during the campaign that Munem had donated money to Price's campaign and that Rizzo just "got a multi-year contract with the township." He said that Munem's partner in the internet site is Canton attorney Deb Whyman.
"The Citizens for Accountable Government PAC has been used for years by Munem and Whyman to help Rizzo obtain trash contracts, and as you all know, to attack and smear political opponents," Heise claimed, during the campaign.
According to a Michigan Department of State Bureau of Elections record of reported contributions for the Price campaign, Rizzo Environmental Services PAC donated $1,000 in 2016.
The federal investigation is a wide-ranging probe of political corruption in local governments, according to a spokesman for the FBI, and is concerned primarily with Macomb County.
According to the Recycling Today website, Rizzo Environmental has been sold to GFL Environmental Inc., a Toronto-based firm. The acquisition was completed early this month and the newly-formed company is a subsidiary of GFL to be called GFL-USA. Rizzo Environmental currently provides collection services to more than 40 municipalities in Southeastern Michigan. Its recycling operations, with three commercial recycling facilities, serve customers in lower Michigan and northern Ohio.
According to the website, Rizzo's current management team, led by Chuck Rizzo, Jr., will remain with GLF-USA.
Plymouth Voice.