Body found in storage drum identified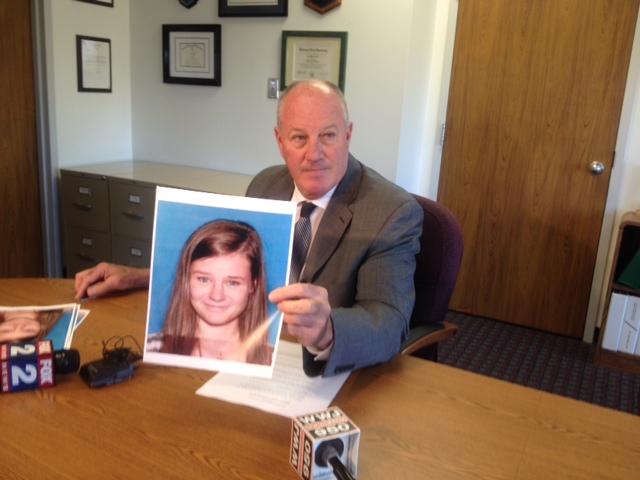 Warren Police Commissioner Jere Green holds a photo of Theresa DeKeyzer whose body was found in Plymouth Township last week.
Sept. 29, 2014  PLYMOUTH EAGLE
Plymouth Michigan News
The body discovered in a Plymouth Township storage yard has been identified as that of a 22-year-old Warren woman missing since June 16.
The body of Theresa DeKeyzer of Warren was discovered by police investigating her disappearance last Thursday in a 55-gallon drum in a trailer at Travel Trailer Storage on Ann Arbor Road. Warren investigators were led to the storage yard by tips from two separate witnesses and secured a warrant to search the premises based on that information. Plymouth Township and Westland police were called to the scene along with officers from the Michigan State Police, who provided technical assistance.
Westland officers were on site as a person of interest in the death is Scott Wobbe, a Westland resident, and DeKeyzer's boyfriend, who was reportedly the last person to see her alive. Her family reported her missing on June 19 and Wobbe told officers that he dropped her off on June 16 near the intersection of Lozier and Nine Mile Road in Warren and had not seen her since that time. DeKeyzer had accused Wobbe of domestic abuse on June 15, according to police reports, and she was reportedly found in the same clothes and earrings she was wearing when she was photographed by Warren officers at the time she made the assault complaint. She told police that Wobbe, in a drunken rage, grabbed her shirt and dragged her out of his car and punched her in the face, according to police reports.
Wobbe is currently facing drug-related charges in Westland following a July 3 search by police of his home in connection with the warrants. Police reportedly found no evidence linking him to DeKeyzer's death, but did find various illegal drugs in the home.
Wobbe was arrested on a probation violation in Midland on July 2 and is currently incarcerated in the Midland County Jail. His probation stemmed from his conviction in February for aggravated assault and drug charges in Midland, according to police.
The plastic storage drum in which DeKeyzer's body was found had a plastic garbage bag on top of it and a concrete seal at least a foot thick, according to witnesses at the scene. State police officers used an X-ray machine at the storage lot to positively determine there was a body inside the barrel, witnesses said.
The office of the Wayne County Medical Examiner performed an autopsy on the remains after removing the body from the sealed barrel, identifying the victim as DeKeyzer on Friday, based on two tattoos and jewelry.
Plymouth Voice.
Photo courtesy of Mike Campbell/WWJ Newsradio 950