Bank robbery suspect facing federal charges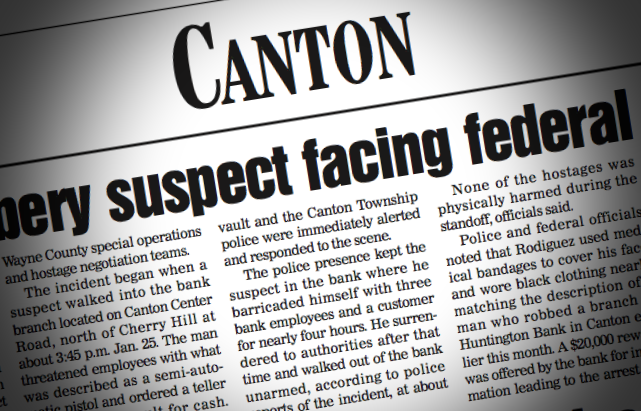 Feb. 3, 2018  PLYMOUTH EAGLE.
Plymouth Michigan News
UPDATED
Authorities have since identified Rodriguez as a suspect in the earlier robbery. In that incident, the robber also wore bandages on his face and clothing similar to that worn by Rodriguez last week during the standoff.
More:
Reward offered after gunman robs Canton Bank
Federal law enforcement authorities have charged Devin Rodriguez with the attempted robbery and taking of hostages at a Citizens Bank branch in Canton last Thursday.
Rodriguez was identified in a complaint filed last Friday in U.S. District Court as the suspect in the incident during which resulted in a four-hour stand-off with Canton Township Police, FBI agents, and the western Wayne County special operations and hostage negotiation teams.
The incident began when a suspect walked into the bank branch located on Canton Center Road, north of Cherry Hill at about 3:45 p.m. Jan. 25. The man threatened employees with what was described as a semi-automatic pistol and ordered a teller to go into the vault for cash. Reportedly, the teller activated a panic alarm as she entered the vault and the Canton Township police were immediately alerted and responded to the scene.
The police presence kept the suspect in the bank where he barricaded himself with three bank employees and a customer for nearly four hours. He surrendered to authorities after that time and walked out of the bank unarmed, according to police reports of the incident, at about 7:45 p.m.
None of the hostages was physically harmed during the standoff, officials said.
Police and federal officials noted that Rodiguez used medical bandages to cover his face and wore black clothing nearly matching the description of a man who robbed a branch of Huntington Bank in Canton earlier this month. A $20,000 reward was offered by the bank for information leading to the arrest and conviction of the individual who robbed that bank, located on Michigan Avenue, just east of Beck Road just after 4 p.m. Jan. 18.
Plymouth Voice.