Back in business- 7-year legal battle ends for car dealer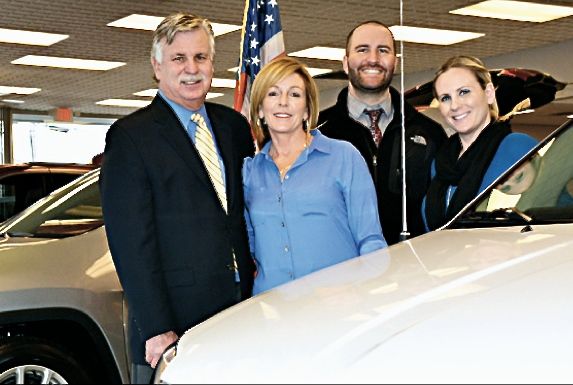 Jim Schebil, left, wife Carol, son Nicholas and daughter Valarie Kardos are all happy to be back at the reopened Fox Hills Chrysler Jeep in Plymouth
Photo: © Dave Willett/Associated Newspapers of Michigan
Mar. 6, 2016  PLYMOUTH EAGLE.
Plymouth Michigan News
The cars are different, the parent company has a new name and the building has been completely remodeled inside and out, but it is business as usual for Jim Schebil and his family.
After a seven year legal battle, Schebil reopened Fox Hills Chrysler Jeep in his building on Ann Arbor Road, exactly where he sold cars for 27 years before Chrysler closed his dealership as a cost cutting measure during a corporate bankruptcy in 2009. Schebil was among the dealerships that fought the corporate move and won, years ago, in an arbitration decision. It wasn't until the United States Supreme Court refused to hear an appeal by Chrysler that Schebil knew he could start making plans to reopen.
"I was confident after the first arbitration decision," he said, "I even took the building off the market and then last summer we knew we could move forward."
He said he started with local architect Joe Phillips who prepared the plans for the new exterior of the building. "He was just outstanding. He did such a great job," Schebil said.
He went to his golf partner from Shaw Construction, Marty Rapson for the construction work on the remodeling of the interior and exterior.
"We went through a great deal, trying to get ready," Schebil said. A Jan. 1 opening was the target, but the amount of work pushed the "soft opening" to early this month.
Schebil has been welcomed back with a standing ovation at the Noon Rotary Club and a steady flow of customers.
"When you hear people say, 'Hey, I bought 12 cars from you,' or 'I bought two cars from you,' and they are back in the showroom, well it's been just great," he said. "It's just great to be back. We've already sold 10 cars," he said.
"We went through a great deal trying to get ready," Schebil said. "We had the building remodel, all the new furniture, phones, computers, insurance, signage. We're treated like a new dealer with permits, licenses and paperwork from Chrysler. After 27 years, we had to start all over. It was very difficult, getting all the necessary licensing, but we got it done. We're rolling," he said.
He said he has "no doubt" he made the right decision in coming back and welcomes the many changes that have taken place during the past seven years.
"Technology has changed everything," he said. "Computers have changed the cars and have taken the business end to a new level. We're embracing that," he said.
Chrysler, now Fiat Chrysler, has been very helpful and supportive, Schebil said. The dealership now has both a website and a Facebook presence and his family has lined up to help at the dealership. Schebil's son, Nick, is the used-car manager and his daughter, Valarie Kardos, manages the office. Service manager Rick Dillon who worked at Fox Hills for 27 years has returned along with salesman Tony Pizzi.
To celebrate the opening, Schebil has offered a number of service department special offers, he said. "We are going to have an official grand opening, maybe sometime in March," he said. "But right now, we are just enjoying being back."
Plymouth Voice.