V-E Day 75-years later
May 8, 2020  PLYMOUTH VOICE.
Plymouth Michigan News
WATCH VIDEO
Seven World War II war veterans, ages 96 to 100 came together with President Trump and his wife at Washington's World War II Memorial on Friday for a wreath-laying ceremony to commemorate the 75thanniversary of V-E Day.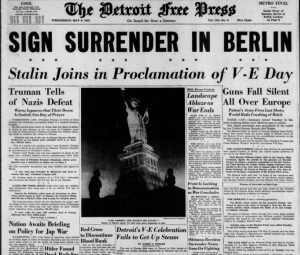 Among the veterans who joined Mr. Trump was Gregory Melikian, 97, of Phoenix, who sent the coded message to the world that the Germans had unconditionally surrendered.
Other countries around the world also marked the 75-years since the day towards the end of World War II when fighting against Nazi Germany came to an end in Europe and Britain and its allies formally accepted Nazi Germany's unconditional surrender, following almost six years of brutal warfare.
V-E Day – for Victory in Europe – was observed on May 8, 1945 in Great Britain, Western Europe, the United States and Australia, and on May 9 in the Soviet Union and New Zealand.
In Britain, Queen Elizabeth II delivered a V-E Day address, broadcast live, as the United Kingdom remains under lockdown due to the coronavirus pandemic.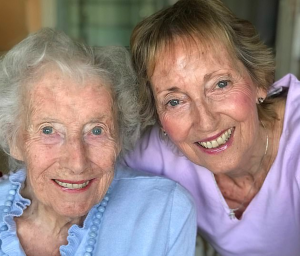 Welsh soprano Kathrine Jenkins, broadcast from the quadrangle at Buckingham Palace on BBC. After the broadcast, the nation was invited to take part in sing-a-long, followed by a nationwide rendition of the wartime anthem We'll Meet Again, with Dame Vera Lynn, 103, joining from her home in East Sussex. People across the UK went out on their doorsteps to raise a glass in a nationwide toast at 3 p.m.
Prime Minister, Boris Johnson expressed his "eternal" gratitude to the wartime generation.
"We can't hold the parades and street celebrations we enjoyed in the past, but all of us who were born since 1945 are acutely conscious that we owe everything we most value to the generation who won the Second World War," he said.
Plymouth Voice.
Photo: Daily Mail
Video:  BBC-YouTube