Snow followed by a push of arctic air in the forecast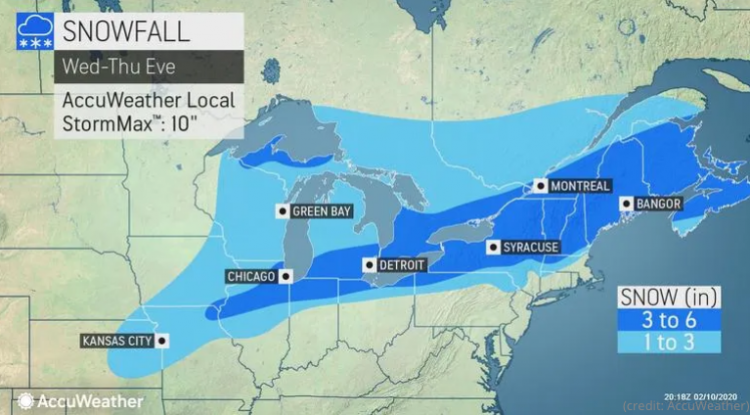 Feb. 12, 2020  PLYMOUTH VOICE.
Plymouth Michigan News
Another round of snow is headed to the Detroit area on Wednesday night and Thursday said to create slippery, treacherous travel conditions for drivers.
Predictions are the winter storm can bring 3- 6 inches of snow to some parts southeast Michigan followed by frigid cold temperatures.
Here's the Metro Detroit Forecast according to AccuWeather and WWJ 950:
Wednesday: 37°Hi; RealFeel® 32°. Mostly cloudy
Wednesday night: 30°Lo; RealFeel® 25°. Snow, accumulating 2-4 inches
Thursday: 33°Hi; RealFeel® 32°. Periods of snow in the morning, followed by a couple of snow showers in the afternoon.
Thursday night: 3°Lo; RealFeel® -5°. Cloudy, snow showers; frigid; storm total 3-6″; hypothermia likely without protective clothing
Friday: 21°Hi; RealFeel® 15°. Cloudy and quite cold
Friday night: 9°Lo; RealFeel® 4°. Clear to partly cloudy and frigid; limited outdoor activity recommended
Saturday: 29°Hi; RealFeel® 13°. Partly sunny
Saturday night: 26°Lo; RealFeel® 12°. A little snow at times in the evening; otherwise, mostly cloudy
Sunday: 39°Hi; RealFeel® 34°. Mostly cloudy
Sunday night: 29°Lo; RealFeel® 27°. Mostly cloudy
Plymouth Voice.