Smash and grab robbery reported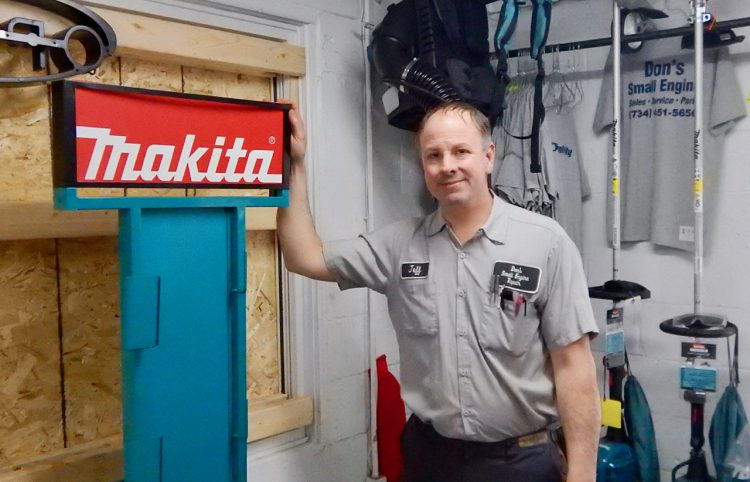 Mar. 28, 2019  PLYMOUTH EAGLE.
Plymouth Michigan News
Don Howard
Staff Writer
Don's Small Engine Sales and Service Center at 630 S. Mill St. in Plymouth was the latest target of a smash and grab robbery last week. The alarming rate of forced entry robberies in the metro Detroit area had skirted Plymouth, until now.
According to police reports, when officers arrived they discovered the large front window on the east side of the building broken out and once officers gained access they found a large chunk of concrete on the floor inside the building.
Long time business proprietor Jeff Kettenbeil said he was notified of the alarm at approximately 4 a.m. last Thursday. When he arrived at the store he found a hole cut in the chain-link fence to his storage yard, immediately next to the railroad tracks, and several lawn mowers propped up and apparently staged for removal against the fence-next to the opening.
Investigating detectives uploaded video footage from the surveillance cameras of neighboring business establishments and recovered a new Troy Built lawn mower in the parking lot of the nearby Knights of Columbus Council Hall on Fair Street, belonging to Kettenbeil. Reports say the police photographed and examined footprints and dusted the lawn equipment for latent prints.
Inventory determined the thieves stole two Makita chain saws, a Maruyama line- trimmer, and a Dolmar chainsaw from the chain saw display rack that was located in the front window.
Kettenbeil said police suggested there was more than one vehicle involved based on videos from surrounding surveillance cameras. He said no one entered the building through the broken front window.
According to Kettenbeil this was the first store robbery in decades. Kettenbeil has owned the neighborhood business, started in 1985, since he took over operations in 1999. The business specializes in small engine repair, sales, service and parts.
"I'm confident the City of Plymouth police will catch the thugs." Kettenbeil said.
The incident remains under investigation according to police.
Plymouth Voice.