Skateboarders learn lesson in values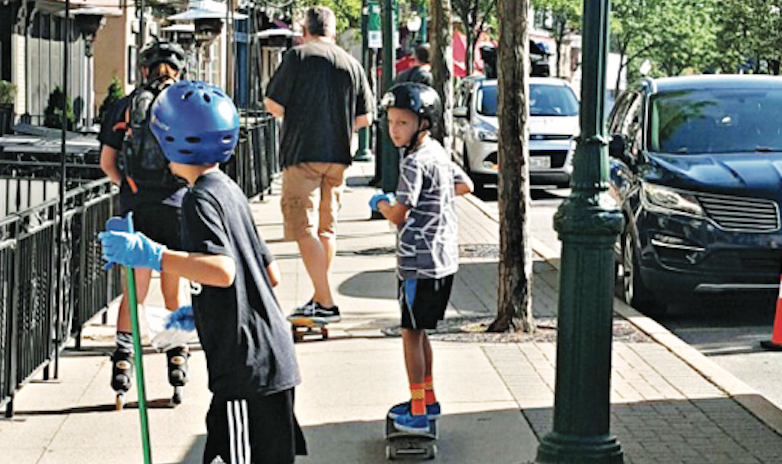 Skateboarders, longboarders and others on wheels pick up trash from downtown streets as part of the Kick Butt program sponsored by Sun & Snow.
Jul. 14, 2017  PLYMOUTH EAGLE.
Plymouth Michigan News
Kick Butt
Learning on a Sunday morning doesn't have to take place in a church.
"We're very involved with all the youth," said Rob Parent, who with wife, Heidi, owns downtown Plymouth Sun & Snow. Streets nearby the shop were filled Sunday morning, June 25, with young people on skateboards and others picking up trash.
"It's to teach really good values," explained Parent of the Kick Butt event, which took place for the fourth consecutive year. "We want to set a good example. The response has been amazing."
As 9 a.m. came, teens, adults and children gathered to get their marching orders. Brothers Evan Vollick-Offer, 18, and Owen Vollick-Offer, 16, both work at Sun & Snow and were among the many participants.
"It's a lot of fun," said Owen, who's going into his junior year at Canton High School and lives in Plymouth. Evan, a sophomore at the University of Michigan in Ann Arbor, noted their whole family participated the first year and won third place for the most trash collected.
The group met up late morning at Lions Park in Plymouth to have their trash weighed for prizes. As they started, Parent, who lives in Plymouth, and other organizers emphasized safety and being polite.
Parent noted skateboarders and long-boarders sometimes get a bad reputation, and the Kick Butt community service focus helps to address that. One adult participant was asked if he was with a church group, and he explained the Sun & Snow sponsorship.
Parent said the kids "put their best foot forward." There were about 50 participants last year, and word of mouth helps Kick Butt numbers grow.
"Now we have two kindergarten Girl Scouts out there today," said Parent as the DJ music wafted down city streets. "It's become a really cool family event.
"It can be fun," Parent added. "It can be a good time. And hopefully encourage them to do more community service."
Parent chuckled when asked if organizers ordered up the sunny skies that day. "Yes, we absolutely did. We had to pay extra for that," he said with a grin.
Plymouth Voice.
Photo: Associated Newspapers