Historic train depot to become new sweet shop in Old Village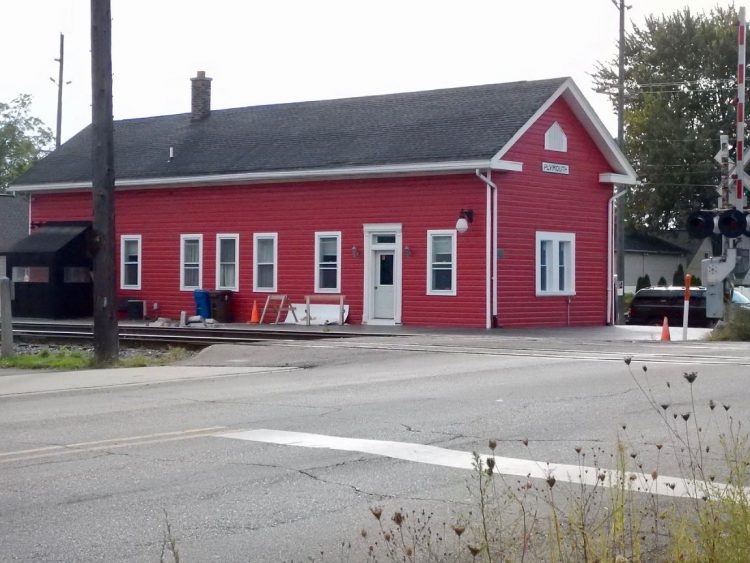 Oct. 3, 2019  PLYMOUTH VOICE
Plymouth Michigan News
All aboard !
Don Howard
Staff Writer
The historic Plymouth railroad station built in 1870 will soon see yet another incarnation, this time as an ice-cream and sweets shop in Old Village.
Craig and Bonnie Butler had been operating a formal photography studio in the original and only train depot in the city until they recently began a major remodeling effort at the building.
Five years ago, the Northville couple purchased the 150-year-old depot building with the adjoining lots and a smaller building, and a narrow paved back street which is now used as an alley, and moved their photo business from Northville to Plymouth. Craig Butler, a professional wedding photographer, ran the studio in the old depot and his wife started a specially candy business in the nearby small- er building about two years ago. Craig David Butler Studios has now been moved to the smaller building and will continue to remain open for business, the couple said.
"I've always been interested in baking–things like, cupcakes and candy, but now we're taking the business to a new era," said Bonnie Craig.
The Butlers have not yet named their new venture that will feature ice cream, coffee and candy in a rustic, family-friendly railroad motif.
"In addition we're going to offer specially shakes, vegan and non-dairy products," said Bonnie Butler.
The original ticket counter is in remarkable condition and will complement the seating area where the Butlers plan to have high-top tables. The couple also plans to close the alleyway for customer parking and have an outside seating area in the summer season.
Construction is coming along as carpenters have finished restoring the foundation which is built on a combination of brick, fieldstones and trusses. After surviving 150 years of vibration and stresses from the constant trains, the foundation needed a lot of work, which has slowed down the planned opening date, now set for late October, Butler said.
"The first thing we did was to paint the station a bright red–called original red," said Bonnie Butler.
Chesapeake and Ohio passenger train service out of the Plymouth station ended in the 1960s. Plymouth is still a busy main line crossing for freight traffic and is known as the Plymouth "Y" or Plymouth "Diamond," where the tracks run north, south, east and west.
Plymouth Voice.