Hazardous weather to bring subzero wind-chill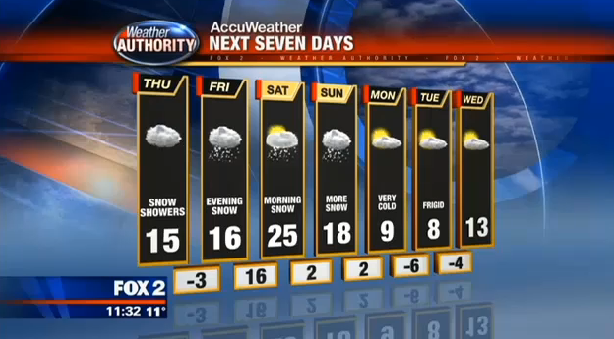 Jan. 23, 2014  PLYMOUTH VOICE.
Bitterly cold conditions Tonight and Friday. Gusty winds to bring drifting snow Friday.
Another Wind Chill Advisory is in effect.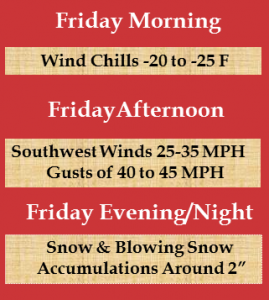 Snow and blowing snow will develop Friday, continuing into Friday night. 1 to 3 inches of snow will be possible across the area by Friday night. Additional drifting of snow will be possible on East-West oriented road, especially in open areas.
Cold temps combined with the wind should bring -20 to -30 degree wind chills by Friday morning. Winds could gust to 30-40 mph by Friday afternoon ahead of our next cold front that will bring snow by Friday evening into Saturday.
Canton Township Public Safety announced The Summit on the Park, located at 46000 Summit Parkway and the Canton Public Library will be open as Warming Centers. 
Outside Winter Weather Precautions:
• Be careful and avoid overexertion such as shoveling heavy snow, pushing cars or walking in wet/deep/heavy snow.
• Walk carefully on snow and ice covered surfaces.
• Wear loose fitting, lightweight, layered clothing with a waterproof outer layer. Don't forget a hat a gloves.
• Understand the hazards of wind chill.
Vehicle Preparedness:
• Have your vehicle winterized. Have a mechanic check the antifreeze, tires, belts, hoses, battery etc.
• Keep extra windshield washer fluid in your vehicle.
• Try to keep you fuel tank near full – gas stations may be closed during severe weather.
• Have an emergency supply kit in your trunk. Include -flares, water, energy bars/nonperishable foods, blanket, shovel, jumper cables and maps.
For more information contact Canton's Emergency Management Office, at 734-394-5357, email krich@canton-mi.org or visits their website at www.cantonpublicsafey.org. 
|News Plymouth Michigan
Plymouth Voice
Weather Panel-Fox 2 Detroit