Glorified pavilion bathroom; township plows forward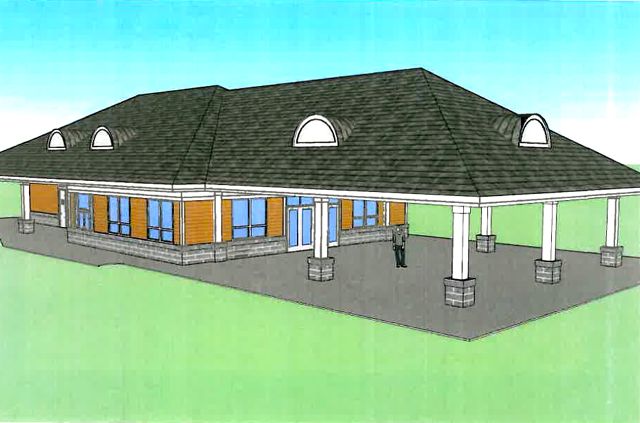 Artist concept drawing of the new Plymouth Township park pavilion.
Apr. 39, 2014  PLYMOUTH VOICE.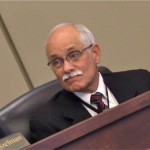 OPINION
There appears to be two epidemics in Plymouth Township, one of unrest and one of uncontrolled spending.
More residents are filling township hall board meetings each month, writing to newspapers editors and taking to social media to vent and express their dislike for a $850,000 pavilion and a $350,000 amphitheater soon to be built in township's 80 acre McClumpha Park, right in the back yard of their exclusive surrounding subdivisions.
This month, a deeply divided Plymouth Township Board of Trustees voted 4-3 to hire an architecture-engineering firm to commence the work on the amphitheater during a confrontational and sometimes ugly exchange of views.
The scope of work they approved read:
… construct a new outdoor 250 to 350 seat amphitheater… for children's productions including puppet shows, story time and music, high school group performances including performing arts and small musical productions; community band; small music groups; dance productions; community theater groups and Shakespeare in the Park. (…) sound amplification is not required."
"…the construction budget for the project is $250,000 to $350,000.
This is what Plymouth Township Trustee Bob Doroshewitz had to say about the township's plan in his first of a series of newsletters he is self-publishing:
"There was no feasibility study or business plan; no committed named user groups; no revenue or expense projections; nothing but "it sounds really cool" for its business plan with claims that user groups that are already successful at other venues in the area will be interested in using a facility of this kind. Over the last several months some residents have learned of the project (but not the scope or the actual cost) and several have attended board meetings. All have spoken out against the project, while not a single resident has spoken for it."
Township resident John Itsell, a professional concert specialist and event promoter recently had these public comments about the amphitheater:
"Amphitheatre success stories are few and far between. The rare success stories are driven by large; gross receipts, sponsorship sales, beer sales, and parking revenues. Municipal entities entering into such a business must be willing and able to fund annual programming budgets, administrative costs, operating budgets, and event expenses. Simply put, the show related expenses and operating/administrative/programming budgets will far exceed collected revenues. If the intent of this project is to undermine Kellogg Park/City of Plymouth offerings, it will be the people of Plymouth Township that will feel pain by being forced to underwrite substantial annual monetary losses because of this misdirected and poorly researched/planned initiative. The success of the Kellogg Park programming is due to its prized downtown charm and location. This setting takes advantage of its built-in audience which capitalizes on its many restaurants, bars, and retail/entertainment options."
Recently, Itsell, frustrated and obviously irritated, called the new pavilion "a glorified pavilion bathroom," and the amphitheater, "a one-man puppet show" in an open letter to the Plymouth Township Board. Describing the projects approval as reckless, Itsell said the board's behavior was "reprehensible and indefensible."
Plymouth Township Board
Please note the intentional omission of the word "honorable" in my opening salutation. It is unfortunate that the good name of this township continues to be dogged by such a disrespectful and uncommunicative group of elected public officials.
Attached, please find a recent Observer/Eccentric opinion editorial that we strongly agree with. It speaks volumes to where we are at on a couple of reckless township park spending initiatives (i.e. the one-man puppet show amphitheater and glorified pavilion bathroom) and how they need to be vetted by taxpayers. Neither of these boondoggles are needed or wanted by the community you represent.
It is inconceivable to think we would spend approx. one million dollars of our hard-earned tax revenues on such foolishness.
I would like to be a wallflower in the room when rouge slate members meet. Do you reinforce you mantra of "don't engage in discussion of what the public wants or thinks" at the beginning, middle, and end of such discussions? I find such behavior to be reprehensible and indefensible.
If it was defensible, you would engage in constructive debate as to why you are determined to spend on these unwarranted wants (vs. needs). Your antics remind us of adolescent kids with money burning a hole in their pockets. In such instances, responsible parents direct those children to stop spending on frivolous/non-essential expenses, save monies, eliminate debt, and live within your means. We implore you to follow the same directives. Call it the common sense approach.
An article in the same paper a couple of weeks ago regarding the LA Fitness lawsuit has many in this community concerned. What possible reason would the board have for shunning such a worthwhile business venture? This township needs jobs, additional tax base, and a solution to that blighted area that such an iconic institution could occupy. I fear that the attorney representing our local business developer has hit it on the head when he commented, "the drive for a township-owned recreation center could be behind the delays". You as a board should be kissing-ass on getting these types of enterprises to set-up shop in our township. Your pro-attracting business position is disingenuous and painfully lacking transparency.
It would be prudent and advisable that you stop spending any more taxpayer monies on the two projects captioned above. Looks like we may need additional revenues for legal representation and court ordered judgments for this LA Fitness folly. Once again we as a community ask, "what are you thinking and why don't you respond?"
Plymouth Voice.