First sign of spring in Plymouth – Dairy King opens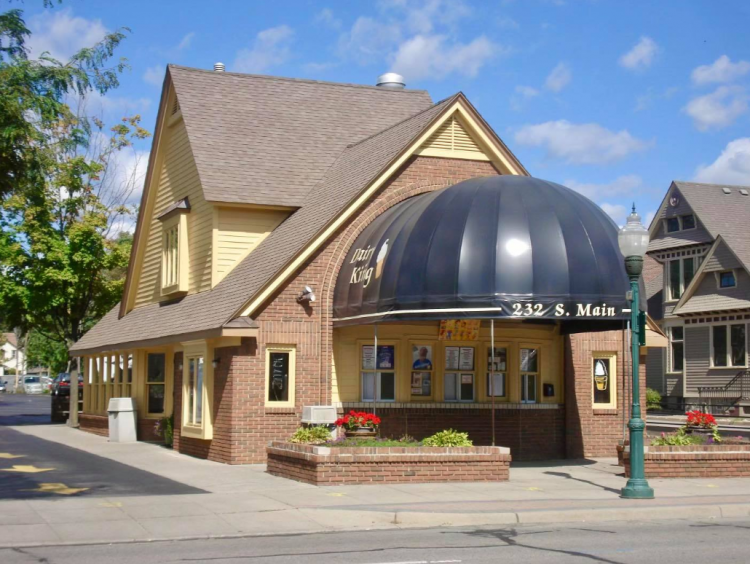 Mar. 9, 2021  PLYMOUTH VOICE.
Plymouth Michigan News
Don Howard
Staff Writer
Last week one of the most popular spots in downtown Plymouth re-opened for business to the delight of ice cream lovers and scores of faithful locals for its 73rd year.  It's a sure sign of spring in Plymouth when the Dairy King opens their doors.
Centrally located at 232 South Main, the prominent landmark building with the big blue walk-up awning has been a meeting place and gathering spot friends, families and shoppers since 1948 .One gets the feeling of an old-fashioned ice cream parlor when inside where the walls are adorned with eclectic Rock and Roll memorabilia.
Because of the pandemic the owners that usually kept seasonal hours remained open through the fall, until January 10, when it became impractical to continue with the winter weather. They say this is only the second time they have opened this early in the year. Fortunately, the weather forecast shows mild temperatures this week with highs in the upper 50s to low 60s for most areas.
The family owned establishment, owned by the Hurley family for the past 23 years, features hard ice cream from local dairies, soft-serve cones, yogurt, flurries, sundaes and other delightful deserts in a plethora of flavors.
Visiting the Dairy King is a must for visitors to Plymouth.
Plymouth Voice.