Scouting service project soars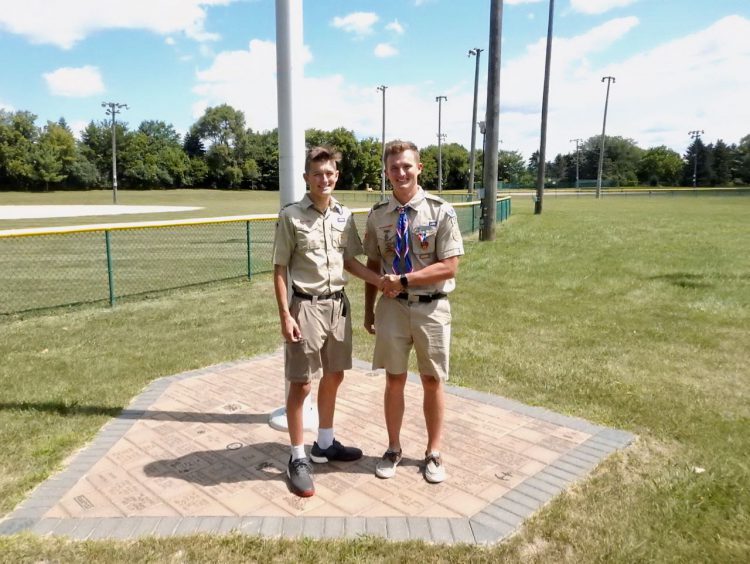 Aug. 16, 2019  PLYMOUTH EAGLE.
Plymouth Michigan News
Flying high
Don Howard
Staff Writer
The work of a pair of enterprising Boy Scouts is clearly visible to anyone visiting the Plymouth Township McClumpha Park baseball diamond.
Brothers Chase Every, 19 and Luke Every, 17, from Boy Scouts of America Troop 1537 in Plymouth, worked hard on an extensive service project to demonstrate their organizational, management and leadership skills as part of the Eagle Scout program.
The Scouts worked for more than a year to design, engineer and install a 35-foot stainless steel illuminated flag pole and brick paver surround in the center of the four ball fields at the park. Luke, a soon-to-be Eagle Scout, assisted Chase, a veteran Eagle Scout-now aged out of the program and attending Michigan State University.
The Eagle Service Project is a requirement to obtain the ranking of Eagle Scout, the highest award given to Scouts who have earned seven preceding ranks and 21 specifically required merit badges during a period of time.
This was no ordinary flag pole project, but a patriotic tribute the brothers said would enhance the park, show their love for their country and community, and highlight America's favorite pastime. Chase Every said he loves baseball, having played since starting T-Ball and recently trying out for the Michigan State baseball team.
The brothers canvassed for contributions selling pavers in two sizes and three designs for $50 – $100 each. When they had enough for the flagpole, they began the installation process by doing research and writing the specifications. It was good fit, especially for Chase Every, who is now majoring in engineering.
The Scouts said it was a challenging and difficult project that cost thousands of dollars and required countless hours of work during the past year. They raised the unbelievable sum of $12,500 to fund the flagpole, the installation and a large 15-foot surround of brick pavers in the shape of a baseball diamond.
As their community project was nearing completion, Luke Every installed a solar light to illuminate the flag at night. Since the light wasn't bright enough to span the 35-foot edifice, he would come to the park to raise the flag each morning and lower the flag at sundown.
The Plymouth Canton Little League organization, hearing of Every's dedication, donated a commercial spotlight and paid for trenching and wiring to ensure the flag is illuminated at night.
Now Every plans to build a structure to surround the light and install a granite bench and more pavers as part of his Eagle Project.
In tune with societal trends, there have been many changes to the Boy Scout organization since it was founded in 1911. This year the U.S. organization began welcoming girls and recently has faced possibility of bankruptcy because of an unexpected waive of lawsuits. The changes don't faze the brothers who talk about the fun and challenges they have experienced. They agree that girls deserve a chance to learn and have the great experiences they have enjoyed during their years in Scouting.
Eagle Scouts are expected to set and example for other Scouts and become leaders in life, which seems to be the case with the Every brothers. They are following in the footsteps of their father, Greg Every, who was also an Eagle Scout.
Plymouth Voice.
Photo: © Don Howard / Associated Newspapers