Love Story-Couple celebrates 72 years of marriage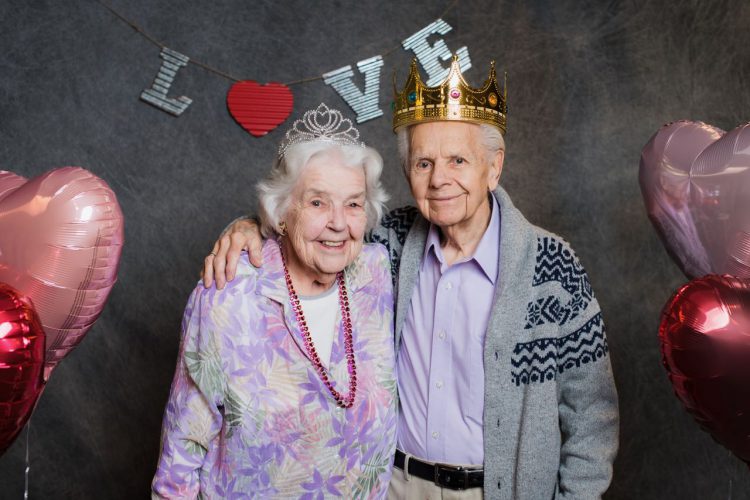 Feb. 25, 2020  PLYMOUTH VOICE.
Plymouth Michigan News
Don Howard
Staff Writer
Valentine's Day was very special for George and Lucille England who have been married for 72 years.
The couple, both now residents of American House Westland-Hunter, were honored last week during a residents' party at the senior facility, where the special couple celebrated more than seven decades of marriage.
Their love story began in the early 1940s when George England, now 96, first met Lucille, 95, as the two were playing in their church orchestra. He played the saxophone and she the cello.
When George first saw Lucille, he told his best friend, "Watch, I am going to marry that girl." At the time, he didn't even know her name.
"She didn't know how much she meant to me before she even knew who I was. I just thought so much of her," George recalled.
A few years passed and George enlisted in the armed forces and served in World War II. When he returned home, he asked Lucille on a date.
"Our first date was a disaster. We went on a double date and argued," George explained, laughing. Things did improve in their courtship, however, and the couple was married on Sept. 27, 1947.
Prior to living at American House, the couple resided in Canton Township for 48 years.
Throughout their marriage, the couple was very involved at the Baptist Church of Canton. Lucille sang in the church choir and George in the church men's quartet for nearly 32 years. George also served on the deacon committee and was at one time the head of church finance committee. They both volunteered at the polls during elections through the years, they said. They have two sons, six grand children and 14 great-grand children.
Still active, they continue their lifestyle with frequent hugs and smiles, enjoying life and bringing good cheer to all the family, friends and residents.
"He is my everything, I couldn't be anything without him. He is perfect," Lucille said, smiling at her husband.
Plymouth Voice.
Photo: Kristi Fitzgerald