Police presence prompts concern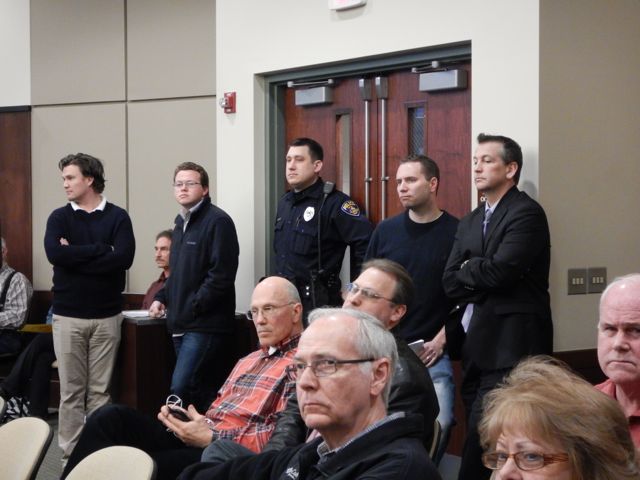 Police officer stationed at door of Plymouth Township Board Meeting in April
Jun. 5, 2015  PLYMOUTH EAGLE.
Plymouth Michigan News
Several residents who attended the regular Plymouth Township Board of Trustees meeting last week were surprised at what they described as an "increased police presence" at the proceedings.
Police Chief Tom Tiderington, however, said that there had been no official request for any officers at the meeting at that those in attendance were not assigned there as part of their regular patrols or by special request.
Residents, however, noted that an armed officer stood in the exit door during the entire meeting and at times rested his hand on his holstered weapon. In addition, there was an armed plain clothes lieutenant in the audience and Tiderington was present, as usual, at the officials' table.
Meetings have reportedly been heated and contentious recently and officials have been escorted to their vehicles following the proceedings by officers. Following one recent meeting, witnesses reported a loud altercation between a trustee and another elected official.
Township resident State Rep. Kurt Heise who attended the meeting in question last week later remarked about his shock at the obvious police presence during the meeting.
"In the hundreds, if not thousands, of public meetings I've attended, I can't remember the number of times I've seen an armed police officer standing at the door in a defensive position like that," Heise said.
Plymouth Voice.