Michigan's Peak Fall Color Report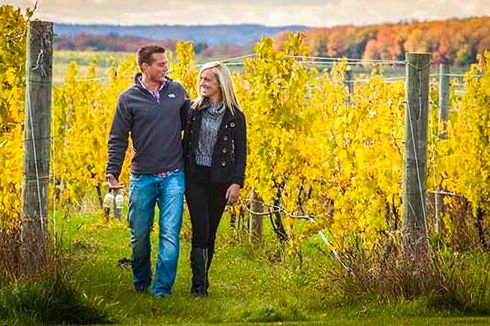 Oct. 18, 2013  PLYMOUTH VOICE.
October 17-23, 2013
Fall's annual color show across much of the Upper Peninsula is now past peak; however, there are still some good viewing opportunities near St. Ignace and the eastern UP.
Fall color is beginning to quicken its spread across Michigan's Northwest communities and now is a good time to head to visit the region view the season color display in all its glory. In Traverse City, there's dusky purple in the ash trees and warm gold in the walnuts, while the cottonwood trees near the Sleeping Bear Dunes on the Leelanau Peninsula are turning a bright buttery yellow now, and the honey locusts are a warm gold. There's even some early red, gold and russet appearing in a few oaks as well good viewing conditions just north and east of Traverse City in the Chain of Lakes area, but full peak color is still at least a week away in most parts of the Traverse Bay region.
Along Michigan's Sunrise Coast, viewers will see splendid color along the River Road National Scenic By-way as well as aboard up and down the river aboard the AuSable River Queen paddleboat. The area is reporting 75 percent tree saturation, with peak one to two weeks away.
It is as if a paint brush loaded with brilliant golden tones of various intensities has been dappled across the Alcona County countryside. Against this backdrop, viewers will find occasional splashes of the flaming orange maples or the vivacious red Sumac, or yellow birch and beech trees. The AuSable Vista overlook on Bamfield Road west of Glennie offers some of the area's most vivid colors. The area has peak conditions.
Most of West Central Michigan is showcasing magnificent bronze tints across the region, with peak conditions one to two weeks away.
Displaying a full spectrum of brilliant fall color, the Mt. Pleasant area has reached peak conditions with nearly 75 percent area trees having already changed.
Conditions in the Grand Rapids area and other communities throughout Kent County have begun to change rapidly. Peak should hit the area in one to two weeks.
Midland has a bounty of vibrant reds, dazzling yellows, and warm golden and bronze colored trees. The area is experiencing peak this week, but you'll want to plan a visit to Chippewa Nature Center and Dow Gardens, which provide some of the area's best last-season color.
Peak color has graced Saginaw County with a beautiful color show. Best viewing this upcoming weekend includes a boat trip through the Shiawassee National Wildlife Refuge on a Johnny Panther Quest Adventure trip. Be sure to bring your camera and binoculars to capture all of the beauty all along the Saginaw, Tittabawassee, Flint, Bad and Cass rivers. In Frankenmuth, locals suggest a trip on the Bavarian Belle riverboat to see the colors along the Cass River, or take a casual train ride at Junction Valley Railroad. Other popular color tours includes driving along M-46, M-47,or  M-53 off I-75 to get a glimpse of the area's fantastic fall glory. The Frankenmuth Brewery, located along the Cass River provides an excellent spot to dine outside as you savor the wonderful colors along the river.
The cooler temperatures and rain over the weekend has Michigan's Southwest 35 percent in vibrant reds, yellows, crimsons and russet along the shores of Lake Michigan. St. Joseph's Lake Bluff Park offers a scenic overlook of the Lake Michigan shoreline and has good color against a backdrop of fountains and monuments.
Saugatuck and Douglas are both at about 50 to 75 percent color saturation among its varied tree population with colors ranging pale cream to vibrant crimson. Travelers to the area this week will find lots of vibrant colors along the shoreline and at Dune State Park. There're also, beautiful colors along country roads leading to Cranes Orchards and Fenn Valley Vineyards. Peak conditions are one to two week away.
This week, visitors to South Haven will find the downtown area a virtual yellow haze of exploding locust trees with Lake Michigan as its backdrop. However, the area's best color can be seen northeast of downtown along the back roads that take you pass the pumpkin and apple orchards, corn mazes, wineries and farm markets. This is where the brightest leaves can be found on the maples and oaks, which look as if their tips have been dipped in yellow, crimson, gold, and red paints. The trees are approaching 50 percent saturation and peak is one to two weeks away.
The Jackson County area is at 26-50 percent color saturation and peak is anticipated to be one to two week away. Maples are gearing up for full color explosion soon, as are area oaks.
Source: (c)  Michigan Economic Development Corporation