'Frosty attitude is puzzling'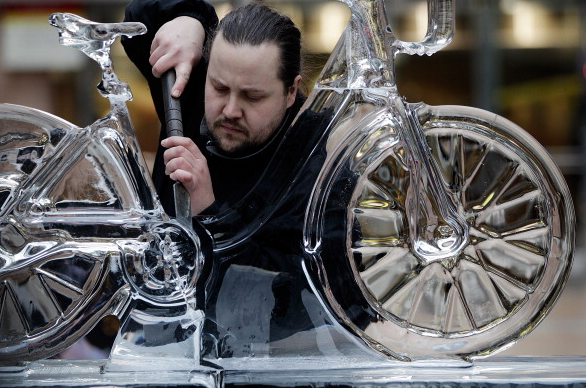 Dec. 20, 2012  PLYMOUTH EAGLE.
OPINION
Next month, after all the holiday events have ended, the decorations come down and been packed away and the gift returns completed, the 31st Annual Plymouth Ice Festival will take place.
The event, originally conceived to help businesses during one of the slowest times of the year, will bring about 100,000 people to downtown Plymouth to see ice carvings of all sizes and shapes, carvers competing with chain saws and a lot of entertainment and outdoor activities.
It's all free.
Why then, we can't help but wonder, does there seem to be an almost antagonistic attitude from some individuals about such a terrific event?
Last year, a chamber of commerce representative reportedly told several people that the festival was in jeopardy of not happening. This year, the city manager allegedly complained publicly about unpaid fees and threatened not to put the required city permits on the city commission agenda.
It would seem to us that any community lucky enough to have an event which has proven to be such an overwhelming success should be supporting and promoting the festival. Perhaps there are problems we are unaware of, but we cannot fathom what those might be, and nobody we ask has any specific complaints.
We realize that there are issues of police protection, lots of extra work for the DPW and a big increase in the use of some other city services. But this event brings people into the downtown during a serious downturn in business and festival organizers pay for these services. Shouldn't the chamber of commerce, the downtown development authority and the city administration be supporting and helping such an undertaking in any way they can rather than spreading salacious gossip and rumors about the very future of the event?
Many other communities are now attempting to copy what Plymouth does at this festival every year. Some do a very nice job, others, well they have a long way to go. All pale in the shadow of Plymouth, however, where the professional ice carvers, the TV celebrities, the skiing and snow- boarding demonstrations and the entertainment make it worth the trip for so many families who need something to get them out of the house in mid-January.
Do they all shop in the stores they pass as they walk through town looking at the carvings businesses pay to have put in front of their shops? No, but many of them do come back to do so and all of them leave with Plymouth imprinted as a place for family entertainment, shopping, dining out and a unique shopping.
This event is one of several that promote the image of the city and the entire community as a wonderful, Norman Rockwell kind of small town. People visit here during festivals like this one and want to return, want to be part of a community that hosts the Art in the Park event and the Rotary Chicken Barbeque and Fall Festival.
Plymouth is a wonderful community full of terrific residents and incredible businesses and shops and some really great restaurants all in a friendly, warm atmosphere that is the envy of communities throughout the state.
The ice festival is an integral part of that reputation and ambience. Those charged with promoting and ensuring the success of the community and the businesses there should be taking every step possible to ensure the success of all these events.
Image: CBS Detroit