Police chase ends in fatal shooting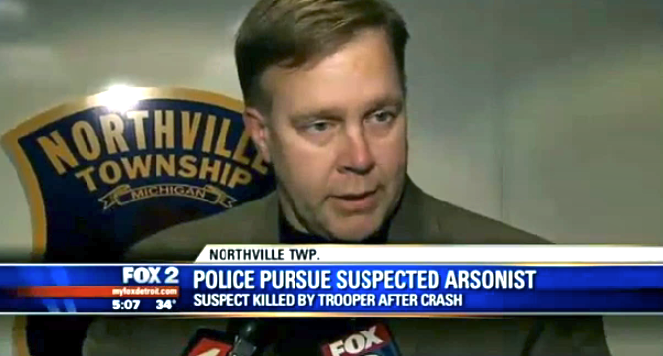 Feb. 12, 2013  PLYMOUTH VOICE.
UPDATED 2-19-13  POLICE VIDEO ADDED
A Ypsilanti Michigan man and arson suspect was shot and killed by a Michigan State Police trooper early Tuesday morning in Salem Township.
According to Northville Township Public Safety Director, John Werth, officers investigated a suspicious unoccupied vehicle parked on Napier Road north of Six Mile and less than 20 minutes later there was a report of an explosion and another vehicle nearby on fire. When they responded they observed the same vehicle leaving the area and initiated a traffic stop.
As police pulled over the red Ford pick-up truck the driver fired at the officers and fled west on Six Mile Road. A chase ensued and the suspect lost control of his vehicle on the icy roads and rammed into a house at Six Mile and Dixboro roads.
As the suspect exited the vehicle and attempted to enter the home by breaking a window he was confronted by the police and lunged at officers with a knife.
According to Michigan State Police Lt. Joel Allen, "One of the troopers fired one round." Allen said.
The suspect identified as Gabriel Vernon Stevenson, 18 years old was declared dead at the scene.
No officers were injured in the incident. The three people at home at the time in the Dixboro residence were not hurt.
Northville Township police were said to be recently investigating a string of arsonous fires that occurred in the township.