Little garden of inspiration blooms in Plymouth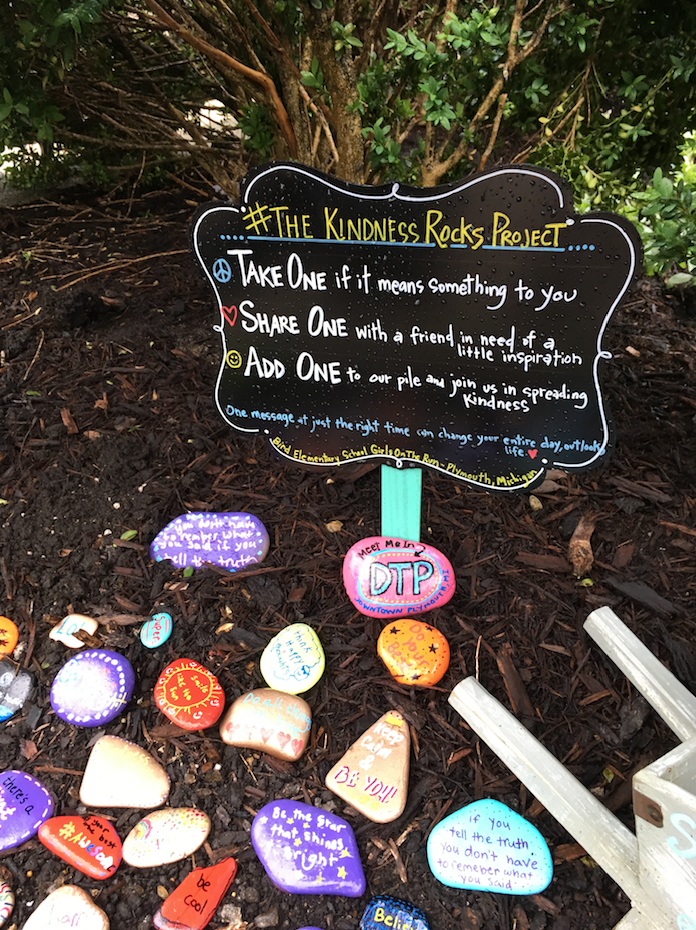 May 29, 2017  PLYMOUTH EAGLE.
Plymouth Michigan News
ROCK ON
Don Howard
Staff Writer
The tiny garden of colorfully painted rocks in Kellogg Park in downtown Plymouth is part of an international phenomenon that started in a Massachusetts seaside village located in Cape Cod.
The little garden is filled with rocks of all shapes and sizes, each with an inspirational message painted brightly on the stone. A sign at the head of the little display reads, "Take one when you need one. Share one with a friend who needs some inspiration or leave one for another. One message at just the right moment can change your whole day, outlook, life."
The rock garden was installed at the park by Bird Elementary School-Girls on the Run, and it is loaded with positive, kind messages.
The little gardens have grown to international proportions after being started in 2015 by Megan Murphy of Barnstable, MA. Now, with the help of countless others, her messages of hope and understanding have spread kindness and inspiration beyond her imagination, she said.
Murphy, 49, said she wanted to spread hope and comfort to those would see her messages on painted rocks. Messages like, "Focus on what makes you happy-and gives meaning to your life." She realized that even though she was successful in her business venture she was unhappy.
After selling her stake in a local boutique to her business partner, Murphy decided she needed a change in her life and started training to become a life coach. She spent time meditating while walking the 6-mile long stretch of Sandy Neck Beach. She and her daughter began collecting and painting more than 200 rocks a week with messages of inspiration, then marking them with a hashtag on the reverse side to track their visibility.
Their effort met with an unexpected surge of popularity on social media, like Facebook, Instagram and Twitter. At last count #The Kindness Rocks Project page has 19,000 followers.
The little gardens now stretch throughout North America and feedback in the form of inspiring rebounding positive messages from cancer patients, people in chemotherapy or distress have convinced Murphy that the project is a success.
"Kindness is the quality or state of being gentle and considerate to others. Kindness is a noun. A noun being the object of a verb, or an act, therefore, you must act before it can be labeled 'kind.' To be described as kind, you must begin by taking actions that prove to be positive, inspirational, thoughtful, touching, selfless, caring, or charitable, Murphy said.
Plymouth Voice.