Pop art – Sculptures enhance shopping district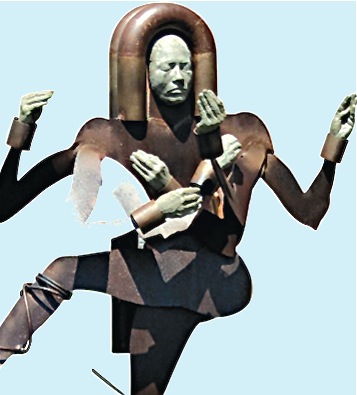 Dance of Bliss by Mike Sohikian of Virginia-part of the 8th Annual Public Art Exhibition commissioned by Canton DDA.
July 24, 2013 PLYMOUTH EAGLE.
Motorists and visitors to a 3-mile stretch of Ford Road can continue to enjoy more than $130,000 in art exhibited along the roadway until May of 2014.
The art installations are part of the 8th Annual Public Art Exhibition commissioned by the Canton Downtown Development Authority. The sculptures were selected by the DDA with the help of the Canton Cultural Commission Public Art Committee.
Among the exhibits are Dance of Bliss- by Mike Sohikian of Virginia. The work is located at Willow Creek Plaza and is valued at $7,800. Dance of Bliss is made of steel and concrete.
Sohikian, a retired ironworker, has been a member of the Bridge and Structural Ironworkers Local 55 for 37 years. He has had a lifetime of love and appreciation for art, but didn't begin his art career until 1995. Since then he has garnered acclaim and numerous prestigious awards and recognition for his paintings and sculptures. Sohikian is best known for taking salvaged steel to new heights with impressive and innovative concepts.
American Rustic– by Todd Kime of Ohio can be found at the Willow Creek Plaza. The pair of figures are valued at $6,000 each.
Kime has been featured in Ford Road's Annual Public Art Exhibition prior to 2013. Currently enrolled in the artistic welding curriculum at Owens Community College, Kime said, "From architecture to art, a passion for the creative process drives my work. Using a wide spectrum of materials in various genres of art, I create art for other's enjoyment. A sense of whimsy is always prevalent in my work. Art allows me to share my passion."
El Fishbird– by Kenneth M. Thompson of Michigan is located near Target and is valued at
$11,500. El Fishbird is made of Corten Steel and stainless steel.
Thompson is well versed in bronze casting and metal fabrication but prefers stone carving. In addition to his notable large-scale sculpture and commissions of the last 15 years, he enjoys doing small- er scale work for gallery exhibitions. He has 20 one-person shows, numerous group exhibitions and many awards to his credit. Of his work he says, "I see each new work as a 'clean sheet of paper' that presents new opportunities to discover sculptural solutions. Beyond con- tent and my sense of aesthetics, my sculpture concentrates on the fundamental issues of form and how negative space defines it."
Passage– by Ray Katz, also of Michigan, is located near Firestone and is valued at $20,000.
Passage is made of painted steel and measures 9 feet by 14 feet by 7 feet.
In the past 15 years Katz has exhibited in Japan, France, Florida, Georgia, Virginia, Tennessee, Texas, Kansas, Illinois, Indiana in private, corporate and institutional collections.
"Through the creative process a hierarchy of elements become symbols for ideas that are a tribute to the evolutionary experience we all share in common on the human plane and in the transcendent experiences inherent in life's journey," he said.
Sugar– by James Oleson of Florida is also located near Target and is valued at $17,000.
Oleson is a graduate of the National Education Center and teaches at the Industrial Arts Center in Gulfport, FL.
"I take an inanimate congregation of objects and put them together in a way that gives them an actual presence that you can feel and touch. Not only can you touch these inanimate objects, but they can touch you back. To make an inanimate object touch, feel and speak is a gift that has been given to me," he said.
Gong Pyramid– by Beau Bilenki of London, Ontario Canada is installed near the Canton Cinema. It is valued at $15,000.
Gong Pyramid is made of ceramic tile and stainless steel and measures 12 feet by 4 feet by 4 feet.
Bilenki is a founding member of Fire Arts and a volunteer at the South Bend Museum of Art. He has spent his life creating artwork in the mediums of silkscreen printing, painting, and pottery with an emphasis on the Japanese Raku techniques.
"My current work consists of, Ohio, New Jersey and throughout southern and western Michigan. His work is represented welded steel rebar geometric forms covered with a galvanized steel lath and covered with concrete. With this concept, I can be a sculptor in the mechanics of welding the frames and a painter in the application of the surface."
Vincent's Passion– by Douglas M. Gruizenga of Michigan is located near Canton Cinema and is valued at $18,000.
Gruizenga has been a high school art instructor, industrial clay modeler, architectural draftsman, industrial welder, and master carpenter at Interlochen Center for the Arts Theatre Department and a sculptor.
"Every viewer brings with them, individual experience and under- standing. It is my hope that my sculpture will be pleasing to the eye, without limiting the observer's creative ability to interpret the subject matter involved," he said.
Morning Glory Whisper Bench– by Jim Gallucci of North Carolina can be found near Family Christian Books at New Towne Plaza. The work is valued at $12,000. Morning Glory Whisper Bench is made of powder coated steel and measures 5feetby10feetby4feet.
Gallucci said he believes that good art challenges us, makes us feel righteous, moves us, soothes us, heals and brings us peace. Gallucci's work has made appearances in Ford Road's Annual Public Art Exhibition in 2010, 2011 and 2012.
"My benches are publicly placed objects that invite interaction with the passer-by. The benches are playful objects that invite the public to sit and talk with a friend. Though each can function as a seat, there is an impracticality of form that lures people to explore each bench and try to discover what they are about."
Phoenix– by James Havens of Ohio is located near Griffin Funeral Home and is valued at $15,000.
Phoenix is made of welded stainless steel and cast iron.
Havens is an instructor at Owens Community College. He creates his work with the artistic philosophy that "less is more". His sculptures are meant to stand alone with minimal explanation.
"I intend that my sculptures should contain enough information that the viewer is not confused or mystified by the artist's intent. I wish to be considered a good journeyman ironworker who demonstrates a high degree of craftsmanship while using only the best materials to create enduring sculptures that speak to the highest aspirations of the human spirit."
Big Blue X- by Brian Ferriby of Michigan is located near Home Depot and is valued at $10,000. Big Blue X is made of painted steel and measures 10 and a half feet by 12 feet by 4 feet.
Ferriby is a professional sculptor and arts educator. He is a graduate of Cranbrook Academy of Art in Bloomfield Hills, and the University of Michigan in Ann Arbor.
"I fabricate sculptural constructions because it is the synthesis of my passions. The forms are the integration of architecture, music, and nature. My method is not to imitate nature. It is conceived as a parallel structural creative process. Insight gained during the creation of each work provides the inspiration for the next. I continue to search for expressive relationships as of yet unexplored," Ferriby said.
More about the Ford Road exhibition is available at ShopCanton.org, facebook.com/ShopCanton, or twitter.com/ShopCanton.
|News Plymouth Michian