Resident applauds candidates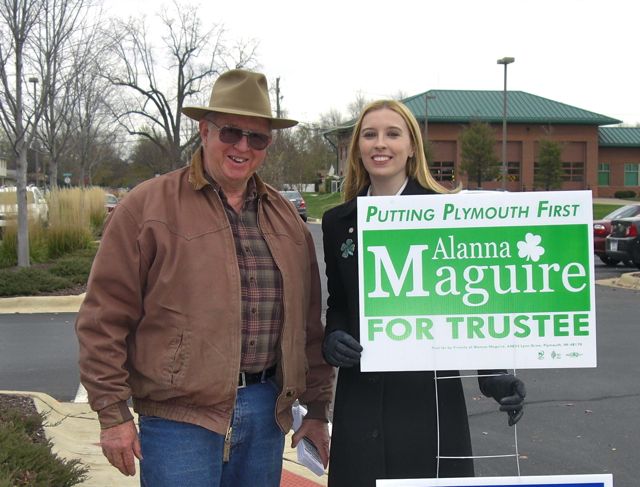 Nov. 8, 2012  PLYMOUTH VOICE
To the editor:
My favorite candidate of the whole race was Alanna Maguire. She didn't win, but she worked as hard as humanly possible. It has been a wonderful experience meeting this young lady, as well as her mom, Mary. Plymouth Township residents deserved to have a voice like Alanna's represent them. Plymouth Township residents lost far more than Ms. Maguire with the results of this race.
I can assure you that there was nobody that worked harder than Alanna in this race. In my opinion, she wanted it more than any of the Trustee candidates, and she wanted it for all the right reasons.
If Alanna Maguire is a true representative of our next generation, I have great hope for our nation's future. She may be affiliated with a different political party than I, but that is OK, she is a good and decent person, and I have no doubt that she will do great things in the future. Alanna is the kind of girl that every parent wants their son to marry. That is the best way I can describe Alanna Maguire. It is truly an honor for me to be able to call her a friend.
I would also like to congratulate Mary Maguire (Alanna's Mom) on her win for the Plymouth District Library Board. I promise that $1.40 we talked about, the $1.40 I owe for late fees will be paid before the end of the week! Mary Maguire will suffer no library scofflaws!  All kidding aside, Mary is another good and decent American who I had the pleasure of meeting, and who I hope to become lifelong friends with.
I was also blessed to meet a great conservative Republican in Mr. Richard Sharland. He was the only lifelong Republican in the Supervisor race. Mr. Sharland is a true gentleman, and a man from the days of our Greatest Generation. He is a guy who can sit and tell you fascinating stories about Plymouth's history, as well as America's history. I consider it an honor to call Mr. Sharland a friend.
In the end, the results of the election are what they are. I can't say that I am happy about them, but they turned out pretty much the way I thought they would. I stood by my principles, and fought the fight I felt I should fight. As long as one does that, they have no reason for a long face.
I go back to the famous quote. "The people get the government they deserve."
Bryan Bentley
Plymouth, MI
Editor: Mr. Bentley is a Plymouth Township resident, contributor and published advocate for change.