Out with the snow – in with the cold, gusty winds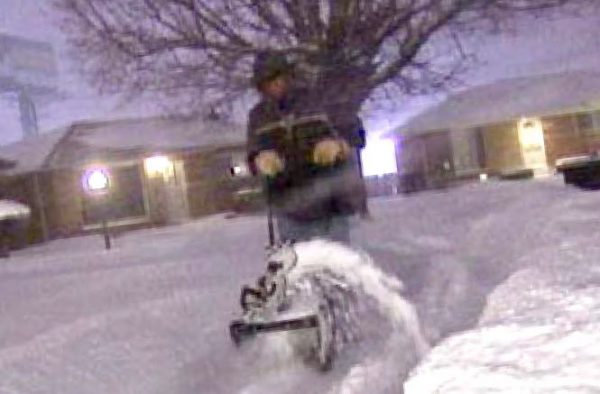 Feb. 16, 2021  PLYMOUTH VOICE.
Plymouth Michigan News
The National Weather Service reported that over a 30-hour period, spanning early Monday morning to early Tuesday, Metro Detroit saw a record 10 inches of snow.
With the snow on the way out this morning the forecast is for frigid cold highs, only in the teens today and Wednesday, with the lows tonight falling near or below zero. Gusty north winds of 20 to 30 mph will lead to drifting snow, particularly over east-west running roads.
If you must shovel snow do it safely
Push, don't lift. Wear breathable clothes, warm boots and drink water, and take action to protect yourself and reduce your risk from having a heart attack.
February is the 57th consecutive American Heart Month; a time when the nation spotlights heart disease.
According to statistics, an American succumbs to heart disease every 36 seconds. With over 600,000 victims a year, this silent epidemic is the leading cause of death in America for men, women and most ethnicities.
With nearly 50 percent of Americans affected by heart disease, if you're not at risk, someone you love likely is, according to the American Heart Association.
Know the risk factors.. Medical experts say heart disease is deadly, but it's also preventable. Even small changes to your everyday lifestyle can reduce your risks.
Risk factors:
Overweight – Obesity is one of the leading causes of heart disease.
Over 50 – As we age, our risk for heart disease increases
A smoker – Smokers have nearly twice the risk for heart attacks as non-smokers
Have high blood pressure – Untreated high blood pressure is a major factor in heart disease and should be treated with help from your doctor.
Live a sedentary lifestyle – If your job has you sitting most of the day you're at an elevated risk.
Have high stress – Stressful workplaces, family life, and lack of sleep can all contribute to heart disease.
Drink alcohol – Regular drinking of alcohol can contribute to high blood pressure.
Have a family history – Shared genetic and environmental factors can make you more susceptible to heart disease.
Take action to lower your risk:
Stay active – Whether it's a leisurely walk or an intense workout, try to get at least 30 minutes of physical activity every day.
Eat Healthier – Have a glass of water instead of soda. Make a home-cooked meal instead of grabbing fast food. Don't eat after 8pm. Small choices can have a big impact.
Schedule a Checkup – Make sure you're scheduling regular checkups with your doctor to keep track of your cholesterol and blood pressure.
Quit smoking. – Smoking has been linked to many health problems, including heart disease. The CDChas information on ways to quit.
Sleep Right – Try to get eight hours of sleep a night to help lessen stress.
Plymouth Voice.