Maguire set to propel her campaign for Township Trustee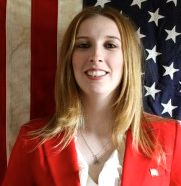 October 2, 2012  PLYMOUTH VOICE.
There is one big wave of fresh air in Plymouth Township these days and her name is Alanna Maguire.
Maguire 27, a lifelong resident of Plymouth, is running for Plymouth Township Trustee in the Nov. 6 General Election and she's hoping to take one of the open seats so she can make a difference, she says.
Focused and determined, Maguire is out knocking on doors; setting up campaign signs and passing out cards with smile as big as the sky.  Maguire has been quiet about her campaign while working hard to gain an impressive collection of endorsements including board presidents, prosecutors, sheriffs, school board officials, and other candidates and citizens.
Maguire says she wants to put the "trust" back into the Board of Trustees, "restoring transparency and accountability." She says, "All residents deserve to feel safe in his or her home, public safety is number one for me."
"I know smart government policies and strategic leadership will keep our Township safe and strong, and I can deliver."
Maguire has earned two undergraduate degrees, a BA in Political Science and a BA in Psychology from the University of Michigan and a Masters in public policy from Michigan State University. She also holds graduate certificates in Homeland Security and Law Enforcement Intelligence Analysis.
In addition to being a small business owner, Maguire has worked as a research assistant at both Michigan State and the University of Michigan
Her website is: AlannaForTrustee.com
Maguire is running as a Democratic candidate.